Informácie o produkte
Vitaj v čarovnom zámku Disney!
Položka

71040
VIP body

2700
Vek

16+
Súčiastky

4080
Funkcie
Prines si kúzelný svet Disney k sebe domov vďaka Zámku Disney. Detailne prepracovaný LEGO® model s viac ako 4 000 dielikmi ponúka naplňujúci zážitok zo stavania a hry, a navyše prichádza s množstvom vzrušujúcich prvkov a funkcii v téme Disney. Detailná fasáda a veže replikujú ikonický Popoluškin zámok z parku Walt Disney World® a každá z dostupných zámockých komnát obsahuje špeciálne prvky inšpirované niektorým z úžasných animovaných filmov od Disney, vďaka čomu zámok ponúka nekonečné hracie možnosti s minifigúrkami, medzi ktorými nájdeš: Myšiaka Mickeyho, Myšku Minnie, Káčera Donalda, Kačku Daisy a vílu Zvonilku, ku ktorým môžeš pripojiť aj ďalšie postavy zo svojej vlastnej zbierky.
Obsahuje 5 minifigúrok: Myšiak Mickey v obleku, Myška Minnie v červených šatách, Káčer Donald v klasickom oblečení, Kačka Daisy v ružovej sukni, levanduľových topánkach a s mašľou a víla Zvonilka s parochňou, sukňou, krídlami a kúzelnou paličkou.
Zámok Disney je tvorený detailne vypracovanou fasádou a kamenným mostom, hodinami, širokou oblúkovou bránou, vyzdobenými balkónmi, špicatými vežičkami, štvorposchodovou hlavnou budovou a päťposchodovou hlavnou vežou so zlatou vežičkou, pričom obe stavby obsahujú komnaty s množstvom prvkov inšpirovaných svetom Disney.
Hlavná budova zámku má na prvom poschodí hlavnú sieň s veľkými oblúkovými dverami, mozaikovou dlažbou, zdobeným lustrom, brneniami, stenami so zavesenými štítmi, kyvadlovými hodinami, vázou na podlahe so skladacími kvetinovými prvkami, kúzelným kobercom a zlatou lampou.
Druhé poschodie hlavnej budovy tvorí komnata so skladacími tmavomodrými závesmi s garnižou, ozdobným skladacím svietnikom a ružou a sklenenými vitrínami.
Tretie poschodie hlavnej budovy tvorí komnata s truhlicou s ukrytou knihou kúziel, mopom a vedierkom, a nachádza sa tam aj prechod na druhé poschodie.
Spálňa na štvrtom poschodí hlavnej budovy obsahuje detailnú posteľ s dekoratívnymi zlatými prvkami tvoriacimi záhlavie.
Kuchyňa na prvom poschodí hlavnej veže obsahuje veľký sporák so vzorom z červených kociek, pracovný stôl, skladaciu metlu a tekvicu, platne, panvice a rôzne iné kuchynské prvky a jedlo.
Druhé poschodie hlavnej veže obsahuje miestnosť s otočným kolesom a prístupom na tretie poschodie hlavnej budovy.
Komnata na treťom poschodí hlavnej veže obsahuje truhlicu s hrebeňom, nožnicami a prameňom čiernych vlasov, ako aj balkón s 2 vystreľovačmi pre funkciu znázornenia ohňostroja.
Miestnosť na štvrtom poschodí hlavnej veže obsahuje zlaté zrkadlo, červené jablko a sklenený pohár.
Miestnosť na piatom poschodí hlavnej veže obsahuje sedenie pri okne a oblúkovité okno.
Súčasťou sú aj 2 žaby a prvok zlatej koruny.
Odstráň časť strechy a objav sklenenú črievičku a knihu rozprávok s maľovanou obálkou.
Spusti ohňostroj a nechaj kúzlam voľný priebeh!
Kombinuj s ďalšími postavami v podobe LEGO® minifigúrok pre nekonečné dobrodružstvá.
Táto súprava je vhodná na stavanie pre deti vo veku od 12 rokov.
Stavebnica pozostáva z viac než 4 000 LEGO® dielikov.
Zámok Disney meria vyše 74 cm na výšku, 44 cm na šírku a 31 cm do hĺbky.
Návod na postavenie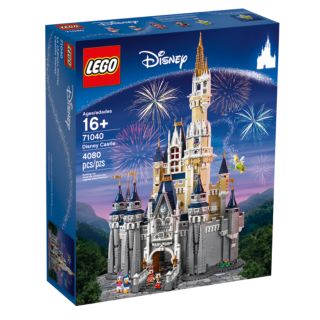 Customer Reviews
Overall Rating
Average rating4.7out of 5 stars
95% would recommend this product.
Rating
Overall Experience
Play Experience
Average rating4.4out of 5 stars
Level of Difficulty
Average rating3.7out of 5 stars
Value for Money
Average rating4.4out of 5 stars
Upozorňujeme, že odoslaním hlasovania o užitočnosti získame vašu adresu IP a uložíme ju u nášho dôveryhodného nezávislého partnera, ktorý nám poskytuje služby, výhradne na to, aby sa zabránilo opakovanému vloženiu údajov z rovnakej adresy IP. Informácie o tom, ako spravujeme vaše osobné údaje, nájdete v našich Pravidlách ochrany osobných údajov.
Reviews