Informácie o produkte
Zachráň Lloyda z väzenia v trónnej sále!
Položka

70651
VIP body

90
Vek

6-14
Súčiastky

221
Funkcie
Spoj svoje sily s Nyou, Skylor a Samurai X. Vkradnite sa do trónnej sály Paláca tajomstiev, premôžte Harumi a zachráňte Lloyda. Napínavá stavebnica LEGO® NINJAGO® 70651 Súboj v trónnej sále obsahuje trónnu sálu, trón so 6 odnímateľnými zbraňami a tajnou priehradkou na kľúč od väzenia, funkciu prerazenia steny a väzenie. Táto stavebnica tiež obsahuje 5 minifigúrok s rôznymi zbraňami na oživenie nindža akcie.
Súčasťou stavebnice je 5 LEGO® NINJAGO® minifigúrok: Harumi, Lloyd, Nya, Skylor a Samurai X.
Trónna sála obsahuje trón so 4 odnímateľnými katanami, 2 odnímateľnými zlatými mečmi a tajnou priehradkou s kľúčom od väzenia a dýkou plus funkciu prerazenia steny a otváracie väzenie.
Zo zbraní tu nájdeš katanu Princeznej Harumi, Lloydov meč, Nyinu kopiju, Skylorine 2 katany a 2 strieborné šurikeny a 2 zlaté katany Samurai X.
Nové minifigúrky Harumi, Lloyda, Nye a Skylor od júna 2018.
Vytvor si a zaži veľkolepé akčné scény nindžov z televízneho seriálu NINJAGO® Majstri Spinjitzu.
Štýlová hračka pre deti meria viac než 10 cm na výšku, 28 cm na šírku a 10 cm do hĺbky.
Návod na postavenie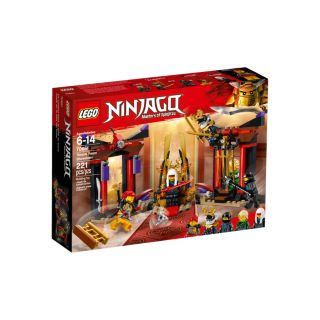 Customer Reviews
Overall Rating
Average rating4.7out of 5 stars
100% would recommend this product.
Rating
Overall Experience
Play Experience
Average rating4.6out of 5 stars
Level of Difficulty
Average rating1.3out of 5 stars
Value for Money
Average rating4.7out of 5 stars
Upozorňujeme, že odoslaním hlasovania o užitočnosti získame vašu adresu IP a uložíme ju u nášho dôveryhodného nezávislého partnera, ktorý nám poskytuje služby, výhradne na to, aby sa zabránilo opakovanému vloženiu údajov z rovnakej adresy IP. Informácie o tom, ako spravujeme vaše osobné údaje, nájdete v našich Pravidlách ochrany osobných údajov.
Reviews