Creator Expert
LEGO®
Parížska reštaurácia
Teraz dostupné
Parížska reštaurácia

4.9013

5

233

.
rating.prefix4.9rating.postfix
Limit 5
Limit
V záujme spravodlivosti voči všetkým našim fanúšikom je dostupný limit nákupu obmedzený na jednu domácnosť. Ak ste už v rámci predchádzajúcich objednávok dosiahli tento limit, vaša objednávka sa môže zrušiť.
Varovanie!
Nebezpečenstvo udusenia.
Obsahuje malé súčiastky.
NÁJSŤ ĎALŠIE PODOBNÉ PRODUKTY
Informácie o produkte
Zaži nezabudnuteľný večer v úžasnej Parížskej reštaurácii!
Položka

10243
VIP body

159

VIP body

Zobrazená hodnota VIP bodov je odhadom a skutočné body sa vypočítajú pri prechode k pokladnici.
Vek

16+
Súčiastky

2469
Funkcie
V Parížskej reštaurácii je veľmi rušno. Dievča na skútri práve ide okolo reštaurácie, kde vo vnútri kmitá medzi stolmi čašník a kde sa nervózny mladý muž s prsteňom chystá požiadať svoju vyvolenú o ruku. V zákulisí, kde šéfkuchár pilne chystá jedlo, je to presne také hektické. Táto budova s prekrásnymi detailmi je prostredím pre mnoho príbehov a aj skvelým doplnkom pre sériu modulárnych budov. Parížska reštaurácia je plne vybavená, v kuchyni sú modrobiele kachličky s riadom, je tu útulný byt s výklopnou posteľou , s kuchynkou a krbom. Na hornom poschodí je umelecký ateliér s liatinovým kúrením, maliarskym stojanom, štetcom a s dvomi plátnami od nádejného umelca. Vonkajšie schodište olemované zavesenými lampášmi a kvetmi vedie dole na strešnú terasu, kde si návštevníci pochutnávajú na jedle pod holým nebom. Tento úžasný model Parížskej reštaurácie má dokonca aj fasádu s detailnými motívmi croissantov, mušlí a pierok, ktoré skvele zachytávajú atmosféru Paríža. Súčasťou je 5 minifigúrok:šéfkuchár, čašník, dievča a romantická dvojica.
Súčasťou je 5 minifigúrok: šéfkuchár, čašník, dievča a romantická dvojica.
Obsahuje tiež potkana a 2 mušle.
V kuchyni je modro-biela dláždená podlaha, veľa kuchynského vybavenia a náčinia.
Byt na poschodí obsahuje sklápaciu posteľ, kuchynský kút a krb.
Na najvyššom poschodí je otvárateľná strecha, ktorá odhaľuje umelecké štúdio s ohrievačom, maliarskym stojanom, štetcom, paletou a umeleckým dielom.
Stavebnica zahŕňa veľa jedla pre zákazníkov vrátane croissantov, koláča, 2 košíčkov, 2 strapcov hrozna, 2 párkov v rožku, moriaka, syru, škatule s mliekom a farebných fliaš.
Súčasťou sú aj biele croissanty, ktoré splývajú s fasádou, a kocky v olivovozelenej, tmavomodrej a tmavočervenej farbe.
Prepracované detaily exteriéru zahŕňajú fasádu s croissantmi, autobusovú zastávku, chodník, skúter, či dokonca kontajner a smetný kôš za budovou.
Vystav tlačené označenie reštaurácie a jedálny lístok, ktorými upútaš zákazníkov.
Nazbieraj a postav si celé mestečko z kolekcie LEGO® Modulárne budovy: 10224 Mestská radnica a 10232 Kino Palace!
Meria vyše 30 cm na výšku, 25 cm na dĺžku a 25 cm na šírku.
Návod na postavenie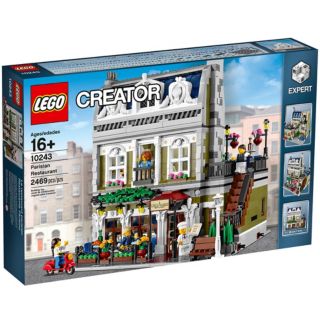 Customer Reviews
Overall Rating
rating.prefix4.9rating.postfix
98% would recommend this product.
Rating
Overall Experience
Play Experience
rating.prefix4.7rating.postfix
Level of Difficulty
rating.prefix3.7rating.postfix
Value for Money
rating.prefix4.7rating.postfix
Upozorňujeme, že odoslaním hlasovania o užitočnosti získame vašu adresu IP a uložíme ju u nášho dôveryhodného nezávislého partnera, ktorý nám poskytuje služby, výhradne na to, aby sa zabránilo opakovanému vloženiu údajov z rovnakej adresy IP. Informácie o tom, ako spravujeme vaše osobné údaje, nájdete v našich Pravidlách ochrany osobných údajov.
Reviews