Informácie o produkte
Usmaž nepriateľa bleskom s Nositeľom búrky!
Položka

70652
VIP body

300
Vek

8-14
Súčiastky

493
Funkcie
Zalietaj si s Jayom na bleskometnom draku LEGO® NINJAGO® 70652 Nositeľ búrky, poraz Tatka Beznoháča a Ňufáka a získaj dračie brnenie. Vystreľ blesky z pružinových vystreľovačov v papuli tohto pohyblivého draka, ktorý má tiež snímateľné sedlo pre minifigúrku, funkciu švihania chvostom a úchyty na zachytenie draka lovcami drakov. Táto stavebnica tiež obsahuje podstavec na zberateľský kúsok – dračia zbroj plus 4 minifigúrky LEGO NINJAGO s rôznymi zbraňami vrátane zberateľského meča z dračej kosti na oživenie bitiek.
Súčasťou stavebnice sú 4 LEGO® NINJAGO® minifigúrky: Jay, Zane, Tatko Beznoháč a Ňufák.
Bleskometný drak Nositeľ búrky má odnímateľné sedlo pre minifigúrku s pripevnenými opratami, otváracie čeľuste s 2 pružinovými vystreľovačmi bleskov, pohyblivý krk, krídla, nohy a chodidlá, švihajúci chvost a 4 úchyty na chytenie draka lovcom drakov Tatkom Beznoháčom a jeho reťazou z kameňa pomsty.
Otvor drakovi čeľuste a vystreľ z pružinových vystreľovačov.
Na podstavci je prvok dračieho brnenia: dračia zbroj.
Zo zbraní tu nájdeš meč z dračej kosti, Jayovu kusari gamu a nôž tanto, Zaneovu zostaviteľnú katanu a luk so šípom, Tatkovu Beznoháčovu reťaz z kameňa pomsty a zostaviteľný meč a Ňufákovu zostaviteľnú katanu a kopiju.
Táto štýlová hračka pre deti tiež obsahuje Jayov tulec.
Vytvor si a zaži veľkolepé akčné scény nindžov z televízneho seriálu NINJAGO® Majstri Spinjitzu.
Nájdi ďalšie predmety dračieho brnenia do zbierky v stavebniciach 70650 Krídlo osudu, 70653 Prvorodený, 70654 Dieselnaut a 70655 Dračia jama.
Zmiešaj nositeľa búrky so stavebnicou 17101 Tvorivý box LEGO® BOOST (predáva sa samostatne) a oživ svoj LEGO výtvor. Ďalšie informácie nájdeš na LEGO.com/BOOST.
Nositeľ búrky meria viac než 12 cm na výšku, 49 cm na dĺžku a 14 cm na šírku.
Návod na postavenie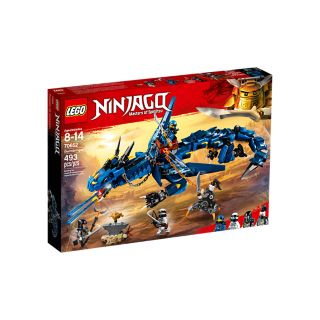 Customer Reviews
Overall Rating
Average rating4.9out of 5 stars
100% would recommend this product.
Rating
Overall Experience
Play Experience
Average rating4.5out of 5 stars
Level of Difficulty
Average rating2.4out of 5 stars
Value for Money
Average rating4.7out of 5 stars
Upozorňujeme, že odoslaním hlasovania o užitočnosti získame vašu adresu IP a uložíme ju u nášho dôveryhodného nezávislého partnera, ktorý nám poskytuje služby, výhradne na to, aby sa zabránilo opakovanému vloženiu údajov z rovnakej adresy IP. Informácie o tom, ako spravujeme vaše osobné údaje, nájdete v našich Pravidlách ochrany osobných údajov.
Reviews