Informácie o produkte
Postaraj sa o chorých a zranených obyvateľov mestečka Heartlake!
Položka

41318
Vek

7-12
Súčiastky

871
Funkcie
Nemocnica v Heartlake z edície LEGO® Friends má 3 poschodia vyšetrovní a vybavenia potrebného na liečenie pacientov. Nájdeš tu aj novorodenecké oddelenie s kolískou a váhou, röntgenovou miestnosťou so skenerom a osvetlením a vyšetrovňu s posteľou a mikroskopom na kontrolu vzoriek. Dolná čakáreň obsahuje recepciu, automat a vchod na pohotovosť pre pacientov, ktorých dopravila sanitka alebo helikoptéra. Súčasťou sú 3 minifigúrky a figúrka bábätka.
bsahuje 3 minifigúrky: Olivia v sesterskej rovnošate, Henry, doktor Patel a figúrky bábätka s menom Ola.
Stavebnica pozostáva z 3-poschodovej modulárnej nemocnice, helikoptéry s nosidlami, sanitky s nosidlami na kolieskach, detského kočíka, vozíka na lekárske vybavenie a bicykla.
Nemocnica obsahuje čakáreň s posuvnými dverami, recepciu, sedenie, automat, chladič na vodu a akvárium; vchod na pohotovosť s posuvnými dverami; röntgenovú miestnosť s otočnou posteľou, skenerom, osvetlením a kostlivcom; novorodenecké oddelenie s kolískou, váhou a kúpeľňou s prebaľovacím pultom; vyšetrovňu s posteľou, monitorom srdcového pulzu a mikroskopom a priestor na pristávanie vrtuľníka.
Medzi doplnkami nájdeš sadru, dieliky s röntgenom, lupu, fľaštičky na vzorky, nožnice, označenie mokrej podlahy a detskú fľaštičku.
Vezmi si po príjazde sanitky všetko pod palec a ponáhľaj sa s pacientom cez vchod na pohotovosť.
Urob röntgenové vyšetrenie Henryho ruky a v rámci liečby mu na ňu daj sadru.
Zabav sa pri kŕmení a vážení novorodencov na oddelení.
Pomôž pri liečbe pacientov počas vizity lekárke, ktorá si tlačí vozík s lekárskym vybavením.
Objav nespočetné množstvo príbehov súvisiacich so starostlivosťou a liečbou o pacientov.
Túto modulárnu stavebnicu môžeš ľubovoľne postaviť a prestavovať.
Nemocnica meria vyše 27 cm na výšku, 30 cm na šírku a 7 cm do hĺbky.
Sanitka meria vyše 6 cm na výšku, 12 cm na dĺžku a 4 cm na šírku.
Helikoptéra s rotormi meria vyše 7 cm na výšku, 11 cm na dĺžku a 4 cm na šírku.
Návod na postavenie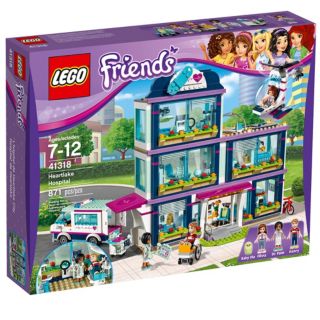 Customer Reviews
Overall Rating
Average rating4.8out of 5 stars
100% would recommend this product.
Rating
Overall Experience
Play Experience
Average rating5out of 5 stars
Level of Difficulty
Average rating3out of 5 stars
Value for Money
Average rating4.2out of 5 stars
Upozorňujeme, že odoslaním hlasovania o užitočnosti získame vašu adresu IP a uložíme ju u nášho dôveryhodného nezávislého partnera, ktorý nám poskytuje služby, výhradne na to, aby sa zabránilo opakovanému vloženiu údajov z rovnakej adresy IP. Informácie o tom, ako spravujeme vaše osobné údaje, nájdete v našich Pravidlách ochrany osobných údajov.
Reviews