Speed Champions
LEGO®
McLaren 720S
Vyradený produkt
McLaren 720S

4.9231

5

13

.
Average rating4.9out of 5 stars
Varovanie!
Nebezpečenstvo udusenia.
Obsahuje malé súčiastky.
NÁJSŤ ĎALŠIE PODOBNÉ PRODUKTY
Informácie o produkte
Navrhni, zostav a pretekaj s úžasným super vozidlom McLaren!
Položka

75880
Vek

7-14
Súčiastky

161
Funkcie
Staň sa super návrhárom a pretekárskym jazdcovm s touto skladacou LEGO® Speed Champions verziou vozidla McLaren 720S, ku ktorej patrí aj dizajnérske štúdio. Toto skladacie auto obsahuje množstvo autentických detailov a jeho súčasťou je aj dizajnérsky stolík a prvky na začatie hry, vrátane originálneho konceptu návrhu a 3D tlačenej miniatúrnej verzie auta McLaren 720S. Stavebnica obsahuje jednu minifigúrku.
Súčasťou je minifigúrka návrhára/pretekára pre McLaren.
Skladacie auto McLaren 720S je pripravené vyraziť na preteky. Obsahuje kokpit pre minifigúrku, kolesá s gumenými pneumatikami a autentické detaily.
Dizajnérske štúdio má stolík a rôzne prvky vrátane lampy, hrnčeka na kávu, originálneho návrhu a vytlačenej 3D miniatúry auta McLaren 720S.
Obsahuje tiež doplnkový prvok v podobe pretekárskej helmy.
zahraj sa na dizajnéra skvelého auta McLaren 720S, alebo sa staň pretekárom, ktorý na ňom bude jazdiť.
McLaren 720S meria vyše 4 cm na výšku, 14 cm na dĺžku a 5 cm na šírku.
Dizajnérsky stolík meria vyše 5 cm na výšku, 6 cm na šírku a 4 cm do hĺbky.
Návod na postavenie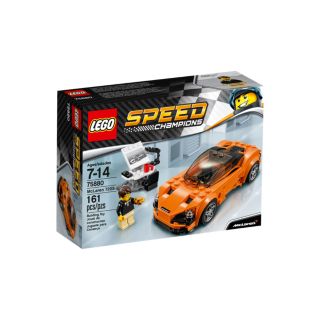 Customer Reviews
Overall Rating
Average rating4.9out of 5 stars
92% would recommend this product.
Rating
Overall Experience
Play Experience
Average rating4.8out of 5 stars
Level of Difficulty
Average rating2.2out of 5 stars
Value for Money
Average rating4.5out of 5 stars
Upozorňujeme, že odoslaním hlasovania o užitočnosti získame vašu adresu IP a uložíme ju u nášho dôveryhodného nezávislého partnera, ktorý nám poskytuje služby, výhradne na to, aby sa zabránilo opakovanému vloženiu údajov z rovnakej adresy IP. Informácie o tom, ako spravujeme vaše osobné údaje, nájdete v našich Pravidlách ochrany osobných údajov.
Reviews