Informácie o produkte
Inšpirujte tvorivosť svojho dieťaťa s touto špeciálnu edíciou stavebnice LEGO®.
Položka

10404
Vek

5-99
Súčiastky

579
Funkcie
Pomôžte svojmu dieťaťu rozmýšľať trúfalejšie, stavať do výšok a využiť svoju tvorivosť na tejto špeciálnej stavebnici LEGO® s podvodným dobrodružstvom, ktorá obsahuje celý rad pestrofarebných kociek a prvkov, ako aj jedinečný dielik LEGO pri príležitosti 60. výročia tejto značky. Je jedno, aká veľká je predstavivosť dieťaťa, môžete ju ešte rozšíriť pomocou LEGO kociek. Táto skvelá hračka pre deti ponúka rôzne úrovne zložitosti stavania pre všetky vekové kategórie a obsahuje 2 minifigúrky. Čo postaví váš veľký mysliteľ?
Stavebnica obsahuje 2 minifigúrky.
Obsahuje mix pestrofarebných LEGO® dielikov, ktoré umožňujú tvorivú hru bez hraníc. Medzi špeciálne diely patria kolesá, tvary a oči, ako aj dielik špeciálnej edície oslavujúci 60 rokov existencie LEGO kociek.
Nechajte svoje dieťa zodpovedať si na niektoré z najväčších otázok na svete vďaka tejto špeciálnej edícii stavebnice LEGO®.
Poskytuje rôzne úrovne náročnosti stavania, takže je vhodná pre staviteľov na rôznych úrovniach.
Medzi doplnkami nájdeš meč, čarodejnícky klobúk, koláč, kladivo a francúzsky kľúč, sekeru, okrúhly štít, metlu, mrkvu, hrebeň, 2 hrnčeky, panvicu, kuracie stehienko, plutvy, rytiersku prilbu, vesmírnu prilbu, 2 parochne a rybu.
Táto špeciálna edícia skvelej hračky pre deti je vhodná pre deti vo veku od 5 rokov.
Začni rozširovať hranice svojho myslenia s LEGO® kockami!
Návod na postavenie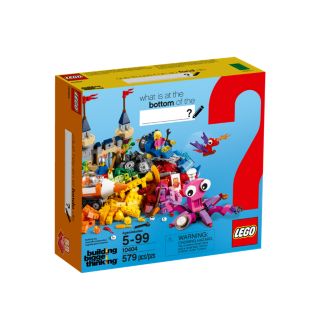 Customer Reviews
Overall Rating
Average rating5out of 5 stars
100% would recommend this product.
Rating
Overall Experience
Play Experience
Average rating4.9out of 5 stars
Level of Difficulty
Average rating2.7out of 5 stars
Value for Money
Average rating5out of 5 stars
Upozorňujeme, že odoslaním hlasovania o užitočnosti získame vašu adresu IP a uložíme ju u nášho dôveryhodného nezávislého partnera, ktorý nám poskytuje služby, výhradne na to, aby sa zabránilo opakovanému vloženiu údajov z rovnakej adresy IP. Informácie o tom, ako spravujeme vaše osobné údaje, nájdete v našich Pravidlách ochrany osobných údajov.
Reviews