BIONICLE®

Wojownik czaszek
LEGO®
Wojownik czaszek
Produkt wycofany
Wojownik czaszek

4.4

5

5

.
Average rating4.4out of 5 stars
Ostrzeżenie!
Ryzyko zadławienia.
Małe elementy i kulka.
ZNAJDŹ PODOBNE PRODUKTY
Szczegóły produktu
Wystrzeliwuj pociski z szybkostrzelnego lodowego łuku wojownika czaszek!
Produkt

70791
Wiek

7-14
Elementy

102
Funkcje
Potężny wojownik czaszek zatrzyma intruzów chcących wkroczyć do starożytnego miasta! Odeprzyj atak bohaterów LEGO® BIONICLE®, oddając sześć strzałów z szybkostrzelnego, potężnego lodowego łuku. Włącz funkcję ciosu bojowego, aby pokonać każdego przeciwnika w zwarciu. Użyj haczykowatego ostrza, aby zerwać nieprzyjacielowi maskę i wykorzystać jego moc żywiołu do ożywienia kolejnych wojowników!
Zestaw zawiera odłączaną przyciskiem maskę w kształcie czaszki, napierśnik z metaliczną dekoracją, funkcję ciosu bojowego, szybkostrzelny lodowy łuk, haczykowate ostrze, srebrne kości, przezroczystą klatkę piersiową i ruchome stawy.
Obracaj kółkiem, aby włączyć ramię bojowe!
Zrywaj maski bohaterom LEGO® BIONICLE®, używając haczykowatego ostrza.
Strzelaj z szybkostrzelnego lodowego łuku!
Wytrzymała konstrukcja pozwala na aktywną zabawę.
Wysokość ponad 20 cm.
Połącz z Rozcinaczem (zestaw 70792) i Zgniataczem (zestaw 70793), aby utworzyć wielogłowego wojownika. Odpowiednie instrukcje są dostępne w internecie na stronie LEGO.pl/BIONICLE/bi.
Instrukcje składania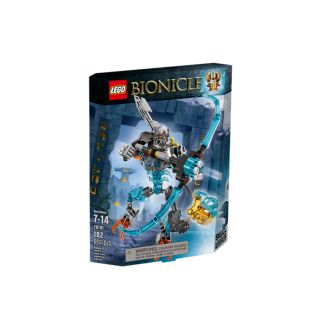 Recenzje Produktu
Ocena ogólna
Average rating4.4out of 5 stars
100% użytkowników poleca ten produkt.
Ocena
Ogólne doświadczenie
Uwaga: podczas przesyłania informacji na temat przydatności recenzji adres IP użytkownika zostaje zapisany, a następnie jest przechowywany przez naszego zaufanego usługodawcę, wyłącznie w celu uniemożliwienia wielokrotnego zamieszczania wpisów z tego samego adresu IP. Aby sprawdzić, w jaki sposób sprawujemy kontrolę nad danymi osobowymi użytkowników, należy zapoznać się z naszą Polityką prywatności.
Recenzję