Overwatch®
LEGO®
Posterunek: Gibraltar
Dostępne teraz
Posterunek: Gibraltar

3.5333

5

15

.
Average rating3.5out of 5 stars
Ostrzeżenie!
Ryzyko zadławienia.
Małe elementy.
ZNAJDŹ PODOBNE PRODUKTY
Szczegóły produktu
Wspaniały zestaw Posterunek: Gibraltar z Łaską, Żniwiarzem, Winstonem i Farą!
Produkt

75975
Punkty VIP

630
Wiek

9+
Elementy

730
Funkcje
Zbuduj kultową rakietę i wieżę startową znane z niezwykle lubianej mapy w grze Overwatch® z zestawem LEGO® Overwatch Posterunek: Gibraltar 75975! Zestaw, zainspirowany popularną na całym świecie zespołową grą akcji, przedstawia rakietę, która rozkłada się na dwie mniejsze. Dodatkowo w zestawie są trzy postacie z gry: Fara uzbrojona w wyrzutnię rakiet, Łaska z kaduceuszem i blasterem oraz Żniwiarz ze swoimi dwiema Piekielnymi Strzelbami, a do tego duża figurka Winstona uzbrojona w Działo Tesli. Młodym fanom spodoba się zabawa zbudowaną z klocków rakietą i bohaterami z gry wyposażonymi w niezwykłą broń. Natomiast starsi gracze mogą pokazać światu swoją pasję, ustawiając ten rewelacyjny model kolekcjonerski do zbudowania przy swoim stanowisku gamingowym.
W zestawie minifigurki: Fara, Łaska i Żniwiarz, a także duża figurka Winstona.
Rakieta z gry Overwatch® rozkłada się na dwie mniejsze rakiety z osobnymi kokpitami. Mniejsza z nich ma ładownię, w której zmieści się duża figurka Winstona, banany i klocek przedstawiający masło orzechowe.
W komplecie wieża startowa podtrzymująca rakietę w pionie, tak jak na mapie Posterunek: Gibraltar w grze Overwatch®.
W komplecie broń postaci z gry Overwatch®: wyrzutnia rakiet Fary, kaduceusz i kaduceuszowy blaster Łaski, dwie Piekielne Strzelby Żniwiarza oraz Działo Tesli należące do Winstona.
Overwatch® studia Blizzard Entertainment — twórców legendarnej gry "World of Warcraft®" — szybko zyskał rzeszę zapalonych fanów z całego świata, którzy tworzą animowane seriale online oraz komiksy i organizują międzynarodowe zawody e-sportowe.
Zestawy konstrukcyjne z serii LEGO® Overwatch® to doskonały prezent dla fanów tej hitowej gry wideo.
Model można połączyć z zestawem 75970 Smuga vs. Trupia Wdowa, by urządzić jeszcze bardziej wciągające pojedynki bohaterów gry Overwatch®!
Połączone rakiety mają ok. 5 cm wysokości, 37 cm długości i 19 cm szerokości.
Wieża startowa ma ok. 37 cm wysokości, 22 cm szerokości i 22 cm głębokości.
Instrukcje składania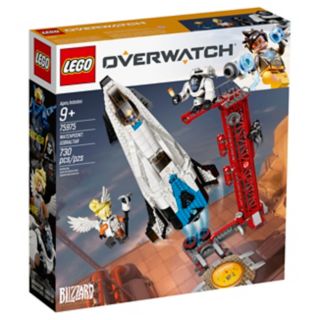 Recenzje Produktu
Ocena ogólna
Average rating3.5out of 5 stars
67% użytkowników poleca ten produkt.
Ocena
Ogólne doświadczenie
Uwaga: podczas przesyłania informacji na temat przydatności recenzji adres IP użytkownika zostaje zapisany, a następnie jest przechowywany przez naszego zaufanego usługodawcę, wyłącznie w celu uniemożliwienia wielokrotnego zamieszczania wpisów z tego samego adresu IP. Aby sprawdzić, w jaki sposób sprawujemy kontrolę nad danymi osobowymi użytkowników, należy zapoznać się z naszą Polityką prywatności.
Recenzję