Creator Expert
LEGO®
Paryska restauracja
Dostępne teraz
Paryska restauracja

4.9056

5

233

.
Average rating4.9out of 5 stars
Ostrzeżenie!
Ryzyko zadławienia.
Małe elementy.
ZNAJDŹ PODOBNE PRODUKTY
Szczegóły produktu
Spędź niezapomniany wieczór we wspaniałej paryskiej restauracji!
Produkt

10243
Punkty VIP

1020
Wiek

16+
Elementy

2469
Funkcje
W paryskiej restauracji panuje ogromny ruch. W pobliżu śmiga skuter, kelnerka pędzi między stołami, a nerwowy młodzieniec przygotowuje się do oświadczyn z pierścionkiem w ręku! Za kulisami jest równie nerwowo — kucharz w pośpiechu szykuje posiłki. W tym budynku z pięknymi szczegółami dzieje się mnóstwo ciekawych historii — to świetny dodatek do serii modułowych budynków. Paryska restauracja ma w pełni wyposażoną kuchnię z białymi i niebieskimi kafelkami, zastawę stołową i przytulne mieszkanie z rozkładanym łóżkiem, małą kuchnią i kominkiem. Na ostatnim piętrze jest studio malarskie z piecykiem, sztalugą, pędzlem i dwoma dziełami ambitnego artysty. Zewnętrzne schody prowadzą na otoczony wiszącymi latarniami i kwiatami taras na dachu, gdzie goście posilają się na świeżym powietrzu. Ten fantastyczny model paryskiej restauracji ma nawet fasadę ze zdobieniami w kształcie croissantów, małży i piór, które oddają atmosferę Paryża. Zestaw zawiera 5 minifigurek: kucharza, kelnera, dziewczynę i romantyczną parę.
Zestaw zawiera 5 minifigurek: kucharza, kelnera, dziewczynę i romantyczną parę.
Zawiera również szczura i 2 małże.
Kuchnia ma podłogę w białe i niebieskie kafelki, mnóstwo kuchenek i wiele narzędzi kuchennych.
Mieszkanie na drugim piętrze ma rozkładane łóżko, małą kuchnię i kominek.
Zdejmowany dach odsłania studio malarskie na ostatnim piętrze, w którym znajduje się piecyk, sztaluga, pędzel, paleta i obrazy.
W zestawie jest mnóstwo jedzenia dla klientów, w tym croissanty, ciasto, 2 ciasteczka, 2 winogrona, 2 hotdogi, indyk, porcje sera, karton mleka i kolorowe butelki.
Zestaw zawiera też rzadko spotykane białe croissanty i klocki w takich kolorach, jak oliwkowa zieleń, ciemnoniebieski i ciemnoczerwony.
Szczegółowe elementy zewnętrzne to na przykład fasada ze zdobieniami w kształcie croissantów, przystanek autobusowy, chodnik, skuter, a nawet śmietnik na tyłach budynku.
Ustaw drukowany znak restauracji i menu, by przyciągnąć klientów.
Zbierz i zbuduj całe miasto dzięki kolekcji LEGO® Modular Buildings: 10224 Ratusz i 10232 Kino Palace!
Budynek ma ok. 30 cm wysokości, 25 cm długości i 25 cm szerokości.
Instrukcje składania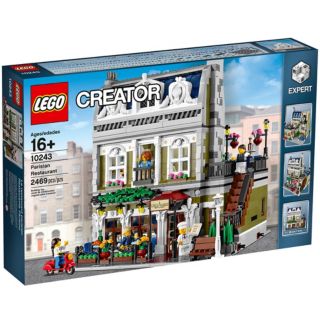 Recenzje Produktu
Ocena ogólna
Average rating4.9out of 5 stars
98% użytkowników poleca ten produkt.
Ocena
Ogólne doświadczenie
Uwaga: podczas przesyłania informacji na temat przydatności recenzji adres IP użytkownika zostaje zapisany, a następnie jest przechowywany przez naszego zaufanego usługodawcę, wyłącznie w celu uniemożliwienia wielokrotnego zamieszczania wpisów z tego samego adresu IP. Aby sprawdzić, w jaki sposób sprawujemy kontrolę nad danymi osobowymi użytkowników, należy zapoznać się z naszą Polityką prywatności.
Recenzję