Scooby Doo

Nawiedzona latarnia
LEGO®
Nawiedzona latarnia
Produkt wycofany
Nawiedzona latarnia

4.9231

5

13

.
Average rating4.9out of 5 stars
ZNAJDŹ PODOBNE PRODUKTY
Szczegóły produktu
Znajdź ukryte klejnoty w nawiedzonej latarni!
Produkt

75903
Wiek

6-12
Elementy

437
Funkcje
Zbadaj nawiedzoną latarnię ze Scoobym-Doo i jego ekipą! Steruj łodzią z Daphne i Scoobym, gdy Kudłaty jedzie na nartach wodnych. Przycumuj łódkę przy skałach, obok masztu świetlnego. Odchyl deski łomem, aby znaleźć mapę ze wskazówką, jak odszukać złoty klucz. Ale ostrożnie! W jaskini w kształcie czaszki czają się latarnik i potwór z bagien, gotowi do niespodziewanego ataku na wścibskich intruzów. Przebij się do latarni, unikając uwięzienia. Gdy dotrzesz na szczyt latarni, otwórz tajny schowek i zabierz złoty klucz. Potem odszukaj ukrytą pod latarnią skrzynię ze skarbami i ujawnij prawdziwą tożsamość złoczyńców! Zestaw zawiera 4 minifigurki z bronią i wyposażeniem dodatkowym: Kudłatego, Daphne, latarnika (Veronę Dempsey) i potwora z bagien (pana Browna) oraz Scooby'iego-Doo (w wersji siedzącej).
4 minifigurki z bronią i wyposażeniem dodatkowym: Kudłaty, Daphne, latarnik (Verona Dempsey) i potwór z bagien (pan Brown) oraz Scooby-Doo (w wersji siedzącej)
Latarnia z balkonem, przezroczystym pomarańczowym płomieniem i tajnym schowkiem ze złotym kluczem, więzienie z otwieranymi drzwiami, kuchnia z kuchenką, patelnią, serem i szczurem, maszt świetlny, tajny schowek z mapą/wskazówką pod ruchomymi deskami, tajny schowek ze skrzynią zawierającą 2 klejnoty i srebrny puchar, sterowana pokrętłem jaskinia w kształcie czaszki ze skrzynią zawierającą łom, zbiornik z powietrzem, płetwy, trójząb, tablica ostrzegawcza i wodorosty
Motorówka jest wyposażona w owiewkę, kierownicę, wiosło, silnik z obracającą się śrubą i narty wodne z liną holowniczą
Trójząb potwora z bagien i zbudowany z klocków hamburger Kudłatego
Głowa latarnika świeci się w ciemności
Pociągnij Kudłatego na nartach wodnych za motorówką
Przekręć pokrętło, aby otworzyć jaskinię w kształcie czaszki!
Posłuż się mapą, aby znaleźć zloty klucz
Odszukaj ukrytą skrzynię ze skarbami w piwnicy!
Odkryj prawdziwą tożsamość potwora z bagien i latarnika!
Wyspa z nawiedzoną latarnią ma ponad 25 cm wysokości, 24 cm szerokości i 12 cm głębokości
Motorówka ma ponad 4 cm wysokości, 13 cm długości i 4 cm szerokości
Kudłaty; Daphne; Verona Dempsey; latarnik; pan Brown; potwór
Instrukcje składania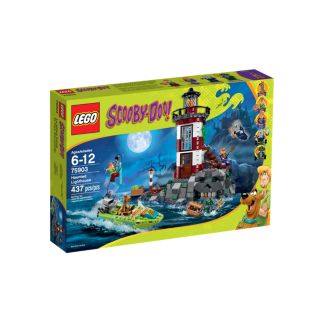 Recenzje Produktu
Ocena ogólna
Average rating4.9out of 5 stars
100% użytkowników poleca ten produkt.
Ocena
Ogólne doświadczenie
Uwaga: podczas przesyłania informacji na temat przydatności recenzji adres IP użytkownika zostaje zapisany, a następnie jest przechowywany przez naszego zaufanego usługodawcę, wyłącznie w celu uniemożliwienia wielokrotnego zamieszczania wpisów z tego samego adresu IP. Aby sprawdzić, w jaki sposób sprawujemy kontrolę nad danymi osobowymi użytkowników, należy zapoznać się z naszą Polityką prywatności.
Recenzję