Overwatch®
LEGO®
Hanzo vs. Genji
Dostępne teraz
Hanzo vs. Genji

3.875

5

8

.
Average rating3.9out of 5 stars
Ostrzeżenie!
Ryzyko zadławienia.
Małe elementy.
ZNAJDŹ PODOBNE PRODUKTY
Szczegóły produktu
Zbuduj dojo Hanamura z dwójką smoczych braci: Hanzo i Genjim z gry Overwatch®.
Produkt

75971
Punkty VIP

180
Wiek

8+
Elementy

197
Funkcje
Zbuduj z klocków LEGO® dojo Hanamura z dwójką smoczych braci z gry Overwatch® w zestawie LEGO Overwatch 75971 Hanzo vs. Genji. Zestaw, zainspirowany popularną na całym świecie zespołową grą akcji, przedstawia niezapomniane starcie w dojo Hanamura. Naprzeciw siebie staje dwóch rywalizujących ze sobą smoczych braci: Hanzo i cyborg ninja Genji. Uzbrojenie dla obu popularnych bohaterów oraz dojo do zbudowania pomogą dzieciom odgrywać własne przygody z gry. Natomiast starsi gracze z przyjemnością ustawią ten fantastyczny model obok swojego stanowiska gamingowego.
W zestawie minifigurki: Hanzo, Genji i członek klanu Shimada.
W dojo Hanamura znajduje się stojak na broń, apteczka oraz dwa ukryte miotacze klocków przedstawiające duchy smoków obu braci.
W komplecie broń postaci z gry Overwatch®: Smoczy Miecz Genjiego oraz Łuk Burzy Hanzo.
Overwatch® studia Blizzard Entertainment — twórców legendarnej gry "World of Warcraft®" — szybko zyskał rzeszę zapalonych fanów z całego świata, którzy tworzą animowane seriale online oraz komiksy i organizują międzynarodowe zawody e-sportowe.
Modele LEGO® Overwatch® to doskonały prezent dla fanów tej hitowej gry.
Budynek dojo Hanamura ma ok. 11 cm wysokości, 22 cm szerokości oraz 9 cm głębokości.
Instrukcje składania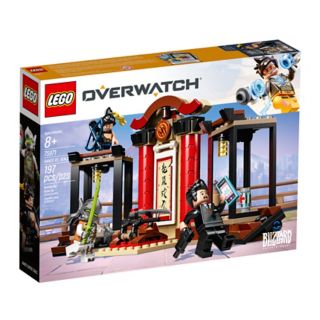 Recenzje Produktu
Ocena ogólna
Average rating3.9out of 5 stars
75% użytkowników poleca ten produkt.
Ocena
Ogólne doświadczenie
Uwaga: podczas przesyłania informacji na temat przydatności recenzji adres IP użytkownika zostaje zapisany, a następnie jest przechowywany przez naszego zaufanego usługodawcę, wyłącznie w celu uniemożliwienia wielokrotnego zamieszczania wpisów z tego samego adresu IP. Aby sprawdzić, w jaki sposób sprawujemy kontrolę nad danymi osobowymi użytkowników, należy zapoznać się z naszą Polityką prywatności.
Recenzję