Speed Champions
LEGO®
Chevrolet Corvette Z06
Produkt wycofany
Chevrolet Corvette Z06

4.9444

5

18

.
Average rating4.9out of 5 stars
ZNAJDŹ PODOBNE PRODUKTY
Szczegóły produktu
Czy odważysz się wyruszyć tym kultowym, amerykańskim autem na pustynię?
Produkt

75870
Wiek

7-14
Elementy

173
Funkcje
Ta zmniejszona do rozmiaru odpowiedniego dla minifigurek wersja klasycznego Chevroleta Corvette Z06 z zestawu LEGO® Speed Champions dostarczy ci mnóstwa wrażeń. Zbuduj ją i przekonaj się! Zestaw zawiera wymienne kołpaki, kask wyścigowy, klucz i klocek w kształcie kamery telewizyjnej. To z pewnością rozpali wyobraźnię fanów sportów motorowych. Zestaw zawiera minifigurkę kierowcy wyścigowego Chevroleta.
Zestaw zawiera minifigurkę kierowcy wyścigowego Chevroleta.
Chevrolet Corvette Z06 jest gotowy do wyścigów, gdy tylko go złożysz! Ma miejsce na minifigurkę oraz zdejmowaną szybę przednią. Do tego 2 zestawy kołpaków i autentyczne logo Chevroleta Corvette oraz naklejki reflektorów.
Wśród akcesoriów znajdziesz kask wyścigowy kierowcy Chevroleta, klucz i kamerę TV.
Zorganizuj wyścig przez pustynię i zmierz się z Fordem Mustangiem GT z zestawu 75871!
Wymiary: ok. 4 cm wysokości, 14 cm długości i 5 cm szerokości.
Instrukcje składania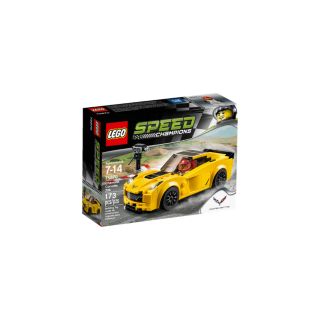 Recenzje Produktu
Ocena ogólna
Average rating4.9out of 5 stars
100% użytkowników poleca ten produkt.
Ocena
Ogólne doświadczenie
Uwaga: podczas przesyłania informacji na temat przydatności recenzji adres IP użytkownika zostaje zapisany, a następnie jest przechowywany przez naszego zaufanego usługodawcę, wyłącznie w celu uniemożliwienia wielokrotnego zamieszczania wpisów z tego samego adresu IP. Aby sprawdzić, w jaki sposób sprawujemy kontrolę nad danymi osobowymi użytkowników, należy zapoznać się z naszą Polityką prywatności.
Recenzję