Productgegevens
Bak een lekkere taart en cakejes voor een feestje in Stephanies huis!
Item

41314
VIP-punten

562
Leeftijden

6-12
Stenen

622
Kenmerken
Er valt van alles te beleven in LEGO® Friends Stephanies huis inclusief keuken met erker en een koelkast en oven die open kunnen, woonkamer met tv en wenteltrap naar de 1e verdieping met een slaapkamer met rond balkon, een badkamer en een kantoor. Ga gezellig samen op de schommelbank zitten of verzorg het jonge konijn in zijn hok. Inclusief drie minipoppetjes plus een konijntje.
Inclusief drie minipoppetjes: Stephanie, haar vader James en haar moeder Alicia, plus Chili het jonge konijntje.
De set omvat een modulair huis van twee verdiepingen inclusief keuken, veranda, woonkamer, wenteltrap, slaapkamer, badkamer, kantoor en konijnenhok.
Op de begane grond: voordeur die open kan, hal met deur die open kan, keuken met erker, oven die open kan, fornuis, afzuigkap, gootsteen, tafel met stoel plus raamzitje en een woonkamer met deur die open kan, bank, salontafel en tv.
Op de eerste verdieping: slaapkamer met bed, bureau en deur die opent naar halfrond balkon, doucheruimte met toilet, douche en wastafel en een kantoor met bureau, draaistoel en laptop.
Buiten vind je een veranda met schommelbank met ruimte voor drie minipoppetjes, een brievenbus en een konijnenhok.
Accessoire-elementen: een taart, twee cupcakes, een koekenpan, drie borden, een schaal, keukengerei, een opbergpot, een stofzuiger om zelf te bouwen, een shampooflesje, een parfumflesje, een borstel, twee tijdschriften, een mand, een wortel, bloemen en een vaas.
Bouw en verbouw zelf dit prachtige modulaire huis inclusief ramen met glas-in-lood-effect.
Ga aan de slag in de keuken met Stephanie die allerlei lekkers klaarmaakt voor haar vriendinnen.
Voer het konijntje samen met Alicia, de moeder van Stephanie, terwijl haar vader James de woonkamer stofzuigt.
Klim via de wenteltrap naar boven en stap het balkon op om te zien of het bezoek er al aan komt. Met wie zit je straks gezellig op de schommelbank?
Deze set biedt een passende bouw- en speelervaring voor kinderen van 6-12 jaar.
Stephanies huis is ca. 22 cm hoog, 25 cm breed en 27 cm diep.
Het konijnenhok is ca. 3 cm hoog, 3 cm breed en 3 cm diep.
Bouwinstructies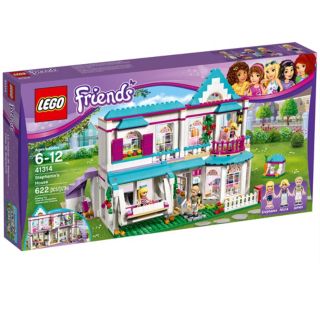 Productbeoordelingen Recensies
Algemene beoordeling
Average rating4.3out of 5 stars
73% van de recensenten zou dit product aanbevelen.
Beoordeling
Algemenevaring
Wanneer u een product beoordeelt, wordt uw IP-adres verzameld en opgeslagen door onze vertrouwde externe dienstverlener met als enige doel meerdere inzendingen van hetzelfde IP-adres te voorkomen. Raadpleeg ons privacybeleid voor meer informatie over hoe u uw persoonlijke gegevens kunt beheren.
Recensies