Creator 3-in-1
LEGO®
Dierenwinkel
Product uit de handel
Dierenwinkel

4.787

5

169

.
Average rating4.8out of 5 stars
SOORTGELIJKE PRODUCTEN ZOEKEN
Productgegevens
Welkom in de dierenwinkel waar je alles kunt krijgen!
Item

10218
Leeftijden

16+
Stenen

2032
Kenmerken
De nieuwste aanwinst in de LEGO® serie gebouwmodules is dit mooie gebouw van drie verdiepingen met een gedetailleerde dierenwinkel en een herenhuis met veel details aan de binnen- en buitenkant. Het is de perfecte aanvulling voor je LEGO stad. Begroet je klanten met een verzameling huisdieren en laat ze hun dieren vertroetelen met allerlei speelgoedjes en versnaperingen. De dierenwinkel heeft een scharnierende trap om makkelijk binnen te komen, een appartement boven met keukentje en een zolder waardoor je naar het interieur van de onderste verdiepingen kunt kijken. Daarnaast staat het stijlvolle herenhuis met een gedetailleerde begane grond met accessoires en een wenteltrap naar de bovenverdieping. Op zolder staan voorraaddozen, en de openslaande deuren geven toegang tot een mooi balkon aan de voorkant. De daktuin, compleet met verse groenten, fleurt de achterkant van het gebouw op. Vanaf 16 jaar. 2.032 elementen.
Dierenwinkel met hond, kat, 2 papegaaien en een vissenkom met goudvissen
Ook zijn er 3 hondenbotten, een bal, een kikkerspeeltje, een mand en een borstel
Het keukentje heeft een stenen open haard, een fornuis, een wastafel, een koffiezetapparaat en een kleine tafel en stoel
De zolderverdieping heeft een dakraam, een bed en een lamp
Het herenhuis heeft een begane grond met brievenbus en post, een hoedenrek, bank, telefoon, wc en toegang tot de kruipruimte van de kelder
Inclusief 4 minifiguren met accessoires: dierenwinkeleigenaar, meisje op fiets, schilder met verfroller en vrouw
Afmetingen: 28,5 cm breed en 26,5 cm hoog!
Combineer dit model met andere modulaire gebouwen zoals de Brandweerkazerne (10197) en Grand Emporium (10211)!
Bouwinstructies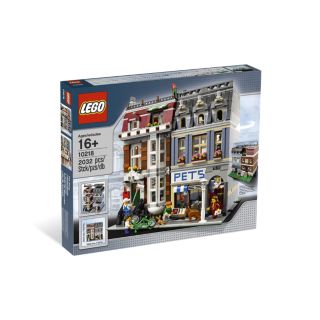 Productbeoordelingen Recensies
Algemene beoordeling
Average rating4.8out of 5 stars
98% van de recensenten zou dit product aanbevelen.
Beoordeling
Algemenevaring
Wanneer u een product beoordeelt, wordt uw IP-adres verzameld en opgeslagen door onze vertrouwde externe dienstverlener met als enige doel meerdere inzendingen van hetzelfde IP-adres te voorkomen. Raadpleeg ons privacybeleid voor meer informatie over hoe u uw persoonlijke gegevens kunt beheren.
Recensies