Creator Expert
LEGO®
Sapulču laukums
Pieejams tagad
Sapulču laukums

4.8175

5

137

.
Average rating4.8out of 5 stars
Brīdinājums!
Pastāv aizrīšanās risks.
Sīkas detaļas.
ATRAST CITUS LĪDZĪGUS PRODUKTUS
Produkta informācija
Nosvini moduļu ēku būvēšanas desmit gadu jubileju ar Sapulču laukumu!
Prece

10255
VIP punkti

2025
Vecums

16+
Detaļu skaits

4002
Iespējas
Dodies uz apbrīnojamo Sapulču laukumu, kurš projektēts, atzīmējot LEGO® modulāro ēku desmit gadu jubileju un kurā ir milzum daudz sīki izstrādātu detaļu un slēptu pārsteigumu. Viegli noņemamas ēkas daļas nodrošina piekļuvi sīki izstrādātām telpām, ko veido pirmais stāvs, kurā ir maiznīca, ziedu veikals un kafejnīca, otrais stāvs, kurā ir mūzikas instrumentu veikals, fotostudija un zobārsta kabinets, kā arī trešais stāvs, kurā ir deju studija un dzīvoklis, no kura var iziet uz jumta terases, kur novietots grils. Ēkas ārpusē ir rūpīgi izveidota ietve, uz kuras ir āra kafejnīcas mēbeles, strūklaka, ielas laternas un izsmalcināta fasāde, ko rotā skaisti veidoti logi un durvis, 3 pielāgojamas veikalu izkārtnes, tornītis ar smailu jumtu un dekoratīva jumta līnija. Iekļautas 8 minifigūras un zīdaiņa figūra.
Komplektā ir 8 minifigūras: zobārsts, barista, maiznieks, florists, mūzikas instrumentu veikala pārdevējs, dejotāja, fotogrāfs un LEGO® fans un zīdaiņa figūra.
Sapulču laukumam ir 3 stāvi ar autentisku, rūpīgi izveidotu fasādi, ko rotā izsmalcināti logi un durvis, 3 pielāgojamas veikalu izkārtne, smails tornītis, dekoratīva jumta līnija un jumta terase, kā arī flīzēta ietve, uz kuras ir strūklaka, āra kafejnīcas mēbeles un 2 ielas laternas.
Pirmajā stāvā ir maiznīca ar leti un kases aparātu, plauktiem, atveramu cepeškrāsni, kāzu torti un dažādām maizītēm un saldumiem; ziedu veikals ar leti, dārzkopības piederumiem, ziedu kompozīcijām un pušķiem, veikalā ir arī zili dzeltens papagailis; kafejnīca ar espreso kafijas automātu, leti, solu sēdēšanai un pīrāga gabaliem.
Otrajā stāvā ir mūzikas instrumentu veikals ar saliekamu bungu komplektu, 2 ģitārām un saksofonu; foto studija ar saliekamu senlaicīgu fotokameru un regulējamu trijkāji; kā arī zobārsta kabinets ar saliekamu, atliecamu krēslu, uzgaidāmā zona, tālrunis un izlietne.
Augšstāvā ir deju studija ar saliekamām klavierēm un atspoguļojošu spoguli; dzīvoklis ar saliekamu atvāžamu dīvāngultu, bagātīgi aprīkota virtuve, tualete, LEGO® mikrofigūras: vilciens, modulārās ēkas un Eifeļa tornis, kā arī izeja uz jumta terasi ar saliekamu grilu, galdu un novītušu augu.
Piederumu komplektā ir balerīnas svārki, čivava, sāls kliņģeris, dekoratīvs cālis un konfekte. Komplektā ir arī saliekams tālrunis, grils, bērnu ratiņi un saliekamas laternas.
Noņem ēkas daļas, lai piekļūtu sīki izstrādātajām iekštelpām.
Atzīmē modulāro ēku 10 gadu jubileju ar šo apbrīnojamo LEGO® Creator Expert jubilejas komplektu!
Komplektā ir vairāk nekā 4000 detaļu.
Jauno 2017. gada pavasara kolekcijas krāšņo elementu komplektā ir zobārsta torss, zobārsta kabineta logs un 2x3 elements ar 10182 stūra kafejnīcas nodalījuma fasādi.
Komplektā ir daudz izliektu elementu un stūra elementu, garāžas durvis, ko izmanto kā nodalījuma logus, un LEGO® Technic ekskavatora kausi, ko izmanto kā jumta seguma elementus.
Sakrāj un uzbūvē veselu pilsētu ar LEGO® modulāro ēku sērijas komplektiem 10243 "Parīzes restorāns", 10246 "Detektīva birojs" un 10251 "Klucīšu banka".
Aptuvenie izmēri: augstums 35 cm, platums 38 cm un dziļums 25 cm.
Būvēšanas instrukcijas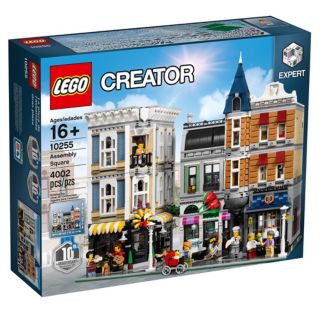 Customer Reviews
Overall Rating
Average rating4.8out of 5 stars
96% would recommend this product.
Rating
Overall Experience
Play Experience
Average rating4.6out of 5 stars
Level of Difficulty
Average rating3.7out of 5 stars
Value for Money
Average rating4.4out of 5 stars
Lūdzu, ņemiet vērā: iesniedzot vērtējumu par atsauksmes noderīgumu, mūsu uzticamais trešās puses pakalpojumu sniedzējs iegūst un saglabā informāciju par jūsu IP adresi; šīs darbības vienīgais mērķis ir nepieļaut vairāku vērtējumu iesniegšanu no vienas un tās pašas IP adreses. Lai uzzinātu, kā kontrolēt savu personas datu lietošanu, lūdzu, skatiet mūsu privātuma politiku.
Reviews