Produkta informācija
Pasūti picu piegādi!
Prece

60150
VIP punkti

19
Vecums

5-12
Detaļu skaits

249
Iespējas
Pagatavo picu un pasniedz to klientiem! LEGO® City komplektā "Picu busiņš" ir iekļauts busiņš ar atveramām malām un virtuves telpu aizmugurē, rolleris un būvējams galds ar saulessargu. Iekļautas 2 minifigūras.
Iekļautas 2 minifigūras; picu busiņa vadītājs un klients.
Picu busiņš, rolleris un būvējams galds ar saulessargu.
Picu busiņam ir atveramas malas un virtuves telpa, kurā vadītājs pasniedz picu.
Rollerim aiz sēdekļa ir paredzēta vieta picu kastei.
Noliec galdiņu ar saulessargu,
Pacel jebkuru picu busiņa malu, lai sāktu darbu.
Pasniedz klientam veselu picu, šķēli vai kartupeļus frī.
Piederumu elementi: picu kaste, vesela pica, picas šķēle un kartupeļi frī.
Šis komplekts piedāvā vecumam atbilstošas rotaļu iespējas bērniem vecumā no 5 līdz 12 gadiem.
Picu busiņa izmēri: augstums 8 cm, garums 14 cm, platums 5 cm.
Rollera izmēri: augstums 3 cm, garums 5 cm, platums 2 cm.
Galda ar saulessargu izmēri: augstums 6 cm, platums 4 cm, dziļums 4 cm.
Būvēšanas instrukcijas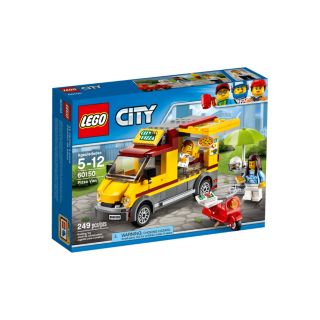 Customer Reviews
Overall Rating
rating.prefix4.8rating.postfix
96% would recommend this product.
Rating
Overall Experience
Play Experience
rating.prefix4.5rating.postfix
Level of Difficulty
rating.prefix2.1rating.postfix
Value for Money
rating.prefix4.7rating.postfix
Lūdzu, ņemiet vērā: iesniedzot vērtējumu par atsauksmes noderīgumu, mūsu uzticamais trešās puses pakalpojumu sniedzējs iegūst un saglabā informāciju par jūsu IP adresi; šīs darbības vienīgais mērķis ir nepieļaut vairāku vērtējumu iesniegšanu no vienas un tās pašas IP adreses. Lai uzzinātu, kā kontrolēt savu personas datu lietošanu, lūdzu, skatiet mūsu privātuma politiku.
Reviews