LEGO®
LEGO® fotorāmītis
Pieejams tagad
LEGO® fotorāmītis

4

5

4

.
rating.prefix4rating.postfix
Brīdinājums!
Pastāv aizrīšanās risks.
Sīkas detaļas.
Produkta informācija
Padari savu rakstāmgaldu košāku ar LEGO® fotorāmīti!
Prece

40173
VIP punkti

19
Vecums

7+
Detaļu skaits

268
Iespējas
Izveido LEGO® klucīšu fotorāmīti un parocīgas kārbiņas nelielu priekšmetu glabāšanai. Sekojot līdzi būvēšanas instrukcijām, izveido portreta vai ainavas formāta rāmīti un izmanto to mīļāko fotogrāfiju izvietošanai. Tāpat vari izveidot arī divas parocīgas glabāšanas kārbiņas, kas līdzinās palielināta izmēra LEGO klucīšiem, dažādu sīklietu uzglabāšanai.
Komplektā ietilpst būvējams fotorāmītis un 2 būvējamas kārbiņas sīklietu glabāšanai.
Fotorāmīti var izveidot portreta vai ainavas formātā.
Iekļautas būvēšanas instrukcijas.
Fotorāmītī var ievietot 15 cm x 10 cm lielu attēlu.
Fotorāmīša izmēri ainavas formātā: 13 cm augstums, 23 cm platums un 7 cm dziļums.
Būvēšanas instrukcijas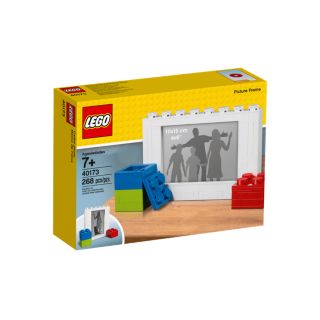 Customer Reviews
Overall Rating
rating.prefix4rating.postfix
100% would recommend this product.
Rating
Overall Experience
Play Experience
rating.prefix3.3rating.postfix
Level of Difficulty
rating.prefix2.7rating.postfix
Value for Money
rating.prefix3.5rating.postfix
Lūdzu, ņemiet vērā: iesniedzot vērtējumu par atsauksmes noderīgumu, mūsu uzticamais trešās puses pakalpojumu sniedzējs iegūst un saglabā informāciju par jūsu IP adresi; šīs darbības vienīgais mērķis ir nepieļaut vairāku vērtējumu iesniegšanu no vienas un tās pašas IP adreses. Lai uzzinātu, kā kontrolēt savu personas datu lietošanu, lūdzu, skatiet mūsu privātuma politiku.
Reviews