NINJAGO®
LEGO®
LEGO NINJAGO piederumu komplekts
Price
14,99 €
10,49 €

Sale price
Pašlaik izpirkts
LEGO NINJAGO piederumu komplekts

4.4

5

5

.
rating.prefix4.4rating.postfix
Brīdinājums!
Pastāv aizrīšanās risks.
Sīkas detaļas.
ATRAST CITUS LĪDZĪGUS PRODUKTUS
Produkta informācija
Bruņojies nervus kutinošām NINJAGO® kaujām!
Prece

853544
VIP punkti

10
Vecums

6+
Detaļu skaits

36
Iespējas
Šajā lieliskajā LEGO® NINJAGO® piederumu komplektā apvienojies ar turnīru dalībnieku Zane un Samurai X, lai cīnītos ar debesu pirātu kareivjiem! Lieliska dāvana LEGO NINJAGO būvēšanas komplektu faniem; 4 iekļautās minifigūras ir apbruņotas ar dažādiem superīgiem ieročiem un piederumiem episku kauju izspēlēšanai.
Iekļautas 4 minifigūras ar dažādiem ieroču un piederumu elementiem: turnīru dalībnieks Zane, Samurai X un 2 debesu pirātu kareivji.
Ieroči: Samurai X zelta metamais asmens un Samuraja šķēps, Zane zelta metamais asmens un lāstekas zizlis, kā arī debesu pirātu lielais pirātu zobens, 2 pirātu zobeni un pistole.
Iekļauts arī debesu pirātu piederumu elements - lāpa.
Atveido slavenās kauju ainas no televīzijas seriāla "NINJAGO®: Masters of Spinjitzu".
Lieliska dāvana LEGO® NINJAGO® būvēšanas komplektu faniem.
Šajā komplektā ir vairāk nekā 35 detaļu un tas piedāvā vecumam atbilstošas rotaļu iespējas bērniem no 6 gadu vecuma.
Būvēšanas instrukcijas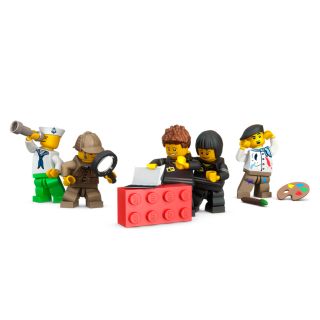 Customer Reviews
Overall Rating
rating.prefix4.4rating.postfix
100% would recommend this product.
Rating
Overall Experience
Play Experience
rating.prefix4.2rating.postfix
Level of Difficulty
rating.prefix1.4rating.postfix
Value for Money
rating.prefix3.6rating.postfix
Lūdzu, ņemiet vērā: iesniedzot vērtējumu par atsauksmes noderīgumu, mūsu uzticamais trešās puses pakalpojumu sniedzējs iegūst un saglabā informāciju par jūsu IP adresi; šīs darbības vienīgais mērķis ir nepieļaut vairāku vērtējumu iesniegšanu no vienas un tās pašas IP adreses. Lai uzzinātu, kā kontrolēt savu personas datu lietošanu, lūdzu, skatiet mūsu privātuma politiku.
Reviews