Stranger Things
LEGO®
Kājām gaisā
Pieejams tagad
Kājām gaisā

4.5

5

50

.
rating.prefix4.5rating.postfix
Brīdinājums!
Pastāv aizrīšanās risks.
Sīkas detaļas.
ATRAST CITUS LĪDZĪGUS PRODUKTUS
Produkta informācija
Pats labākais LEGO® Stranger Things modelis būvēšanai un kolekcionēšanai!
Prece

75810
VIP punkti

229
Vecums

16+
Detaļu skaits

2287
Iespējas
Visā pasaulē populārā Netflix seriāla fani novērtēs šīs kolekcionējamās LEGO® Stranger Things rotaļlietas – 75810 Kājām gaisā – autentiskās detaļas. Izturīgo, no klucīšiem uzbūvējamo modeli var pārvietot no reālās pasaules uz Atspulgu. Modeļa būvēšanas instrukcijas veids ļauj aizraujoši kopīgot pieredzi ar draugiem un ģimeni. Baiersu mājā atrodas Vila istaba, viesistaba un ēdamistaba. Mājas Atspulga versijai, kas eksistē citā dimensijā, ir tās pašas iezīmes, kas reālās pasaules modelim, taču tā izskatās tumša, klāta ar vīnstīgām, noplukusi, un seriāla fani to uzreiz atpazīs. Šis spēļu komplekts, kurā iekļautas 8 Stranger Things figūriņas un aksesuāri, būs lieliska dāvana Stranger Things faniem, kuriem patiks būvēt šo modeli un ar to rotaļāties, apliecinot aizraušanos ar seriālu.
Šajā LEGO® Stranger Things rotaļlietā iekļautas 8 uzreiz atpazīstamas Stranger Things minifigūras no Netflix oriģinālā seriāla: Vienpadsmit, Maiks Vīlers, Lūkass Sinklērs, Dastins Hendersons, Vils Baierss, Džoisa Baiersa, policists Džims Hopers un Demogorgon.
Baiersu mājas priekšā atrodas lievenis ar mēbelēm, viesistaba, ēdamistaba un Vila guļamistaba.
Viesistabā ir autentiskas detaļas, kas redzamas seriālā, piemēram, alfabēta siena ar izgaismošanas funkciju, dīvāns, kafijas galdiņš, tālrunis, cirvis, pielīmējamas skrejlapas "Vai esi mani redzējis?" elements un lāču lamatas, ar kurām noķert Demogorgon.
Seriāla centrālā notikumu vieta ir Vila guļamistaba, kas šajā modelī ir pilnīgi identiska seriālā redzamajai ar tādiem objektiem kā Vila magnetola, gulta, rakstāmgalds, galda lampa, zīmējumi un filmu plakāti.
Ēdamistabā ir atpūtas krēsls, kastes ar Ziemassvētku gaismas virtenēm, fantāzijas spēles instrukcijas uzlīmes elements un telpaugs podiņā.
Bēniņos atrodas Mind Flayer zīmējuma elements ar uzlīmi un burvju cepure "Viedajam Vilam".
Atspulga komplekts iemieso Netflix oriģinālā seriāla vizuālo izskatu un gaisotni, tostarp baisos vīteņaugus, tumšās krāsas un noplukušo skatu.
Policista Džima Hopera policijas īpašo uzdevumu automašīnai ir noņemams jumts, lai ērti varētu piekļūt tā iekšpusei, un ķirbja elements, kas atgādina par 2. sezonu.
Iekļauti šādi piederumi: Lūkasa linga un lukturītis, Dastina pleijeris un kompass, Maika lukturītis un pleijeris, Hopera kafijas krūze, Džojas lukturītis un "Viedā Vila" zīmējums, un Vienpadsmit vafele.
Šajā Stranger Things kolekcionējamajā komplektā iekļauti 2200 elementi, kas safasēti 11 iepakojumos, lai reālā pasaule un Atspulgs varētu tikt būvēti vienlaikus pēc tiem pašiem principiem.
Aptuvenie izmēri: 32 cm garums, 44 cm platums un 21 cm dziļums.
Būvēšanas instrukcijas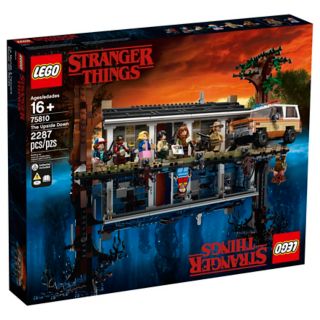 Customer Reviews
Overall Rating
rating.prefix4.5rating.postfix
88% would recommend this product.
Rating
Overall Experience
Play Experience
rating.prefix4.4rating.postfix
Level of Difficulty
rating.prefix3.8rating.postfix
Value for Money
rating.prefix4.3rating.postfix
Lūdzu, ņemiet vērā: iesniedzot vērtējumu par atsauksmes noderīgumu, mūsu uzticamais trešās puses pakalpojumu sniedzējs iegūst un saglabā informāciju par jūsu IP adresi; šīs darbības vienīgais mērķis ir nepieļaut vairāku vērtējumu iesniegšanu no vienas un tās pašas IP adreses. Lai uzzinātu, kā kontrolēt savu personas datu lietošanu, lūdzu, skatiet mūsu privātuma politiku.
Reviews