Creator Expert
LEGO®
Žiemos švenčių traukinys
Laikinai nėra sandėlyje
Žiemos švenčių traukinys

4.3441

5

93

.
Average rating4.3out of 5 stars
Įspėjimas!
Pavojus užspringti.
Smulkios dalys.
RASKITE DAUGIAU PANAŠIŲ PRODUKTŲ
Išsami informacija apie produktą
Sėsk į stebuklingąjį žiemos švenčių traukinį!
Prekė

10254
VIP taškai

750
Amžiaus grupės

12+
Dalys

734
Savybės
Susirinkite visa šeima ir pasilinksminkite konstruodami LEGO® su šiuo žavingu modeliu, kuriame yra pilnas bėgių ratas, įlaipinimo platforma su suoliuku ir žibintu, su "Power Functions" naujinamas traukinuko variklis su iš kamino skriejančiais iš detalių padarytais dūmais, anglių krovikas, bortinis vagonas su besisukančia kalėdine egle, žaislais ir dovanomis bei raudonas tarnybinis vagonas su išsamiu interjeru ir staliuku. Traukinys taip pat turi didelius ir mažus raudonai nudažytus garvežio ratukus. Pats traukinys papuoštas žaliomis girliandomis, lempučių girliandomis ir baltomis medžio detalėmis. Šiame LEGO® Creator Expert rikinyje yra 5 minifigūrėlės.
Rinkinyje yra 5 minifigūrėlės: garvežio vairuotojas, bilietų konduktorius, senelė, berniukas ir mergaitė.
Žiemos švenčių traukinyje yra 16 lenktų geležinkelio bėgių, variklis, anglių krovikas, bortinis vagonas su šventine eglute, žaislais ir dovanomis, tarnybinis vagonas, įlaipinimo platforma, suoliukas ir žibintas.
Papuošk Kalėdų eglutę ir važiuok traukiniu – pamatysi, kaip eglė sukasi.
Prisijunk prie konduktoriaus tarnybiniame vagone ir pasivaišink gardžiu kakavos puodeliu.
Surink visą šeimą šventinėms LEGO® konstravimo linksmybėms!
Rinkinyje yra dvigubo konstravimo instrukcijos, kad šeima galėtų linksmintis kartu.
Priedai: žalios girliandos, dekoratyvinės lemputės ir balto medžio kaladėlės, supakuotų dovanų detalės ir mažyčiai sukonstruojami žaislai, įskaitant mažytį traukinį, prisukamą automobilį, ugniagesių automobilį, nuotoliniu būdu valdomą robotą, burlaivį ir erdvėlaivį.
Atnaujink iki motorizuoto variklio naudodamas "LEGO® Power Functions" 8879, 8884, 88000 ir 88002 (nepridėta). Instrukcijas galima rasti ant konstravimo instrukcijų nugarėlės.
Specialios detalės: maži ir dideli raudoni traukinio ratukai, tamsinti langai, traukinio bamperiai, karvių gaudyklė, balto medžio detalės ir riedučiai.
Rinkinyje yra daugiau nei 700 LEGO® detalių, įskaitant 16 lenktų bėgių.
Rinkinys skirtas konstruoti nuo 12 metų amžiaus.
Švenčių traukinys yra 12 cm aukščio, 52 cm ilgio ir 7 cm pločio.
Lenktų bėgių geležinkelio skersmuo viršija 70 cm.
Konstravimo instrukcijos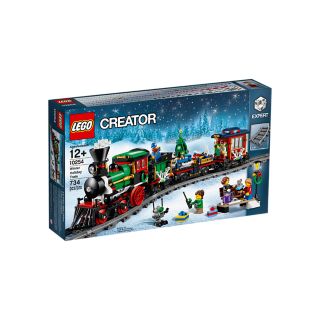 Customer Reviews
Overall Rating
Average rating4.3out of 5 stars
92% would recommend this product.
Rating
Overall Experience
Play Experience
Average rating4.3out of 5 stars
Level of Difficulty
Average rating3.1out of 5 stars
Value for Money
Average rating4.1out of 5 stars
Atkreipkite dėmesį, kad kartu su peržiūra pateikus naudingumo įvertinimą, jūsų IP adresas išsaugomas ir laikomas mūsų trečiosios šalies paslaugų tiekėjo. Tai atliekama todėl, kad iš vieno IP adreso nebūtų pateikiama keletas įrašų. Norėdami sužinoti, kaip valdyti savo asmeninius duomenis, žr. mūsų privatumo politiką<./a>.
Reviews