Creator Expert
LEGO®
"Volkswagen T1" kemperis
Galima įsigyti dabar
"Volkswagen T1" kemperis

4.6775

5

369

.
Average rating4.7out of 5 stars
Įspėjimas!
Pavojus užspringti.
Smulkios dalys.
RASKITE DAUGIAU PANAŠIŲ PRODUKTŲ
Išsami informacija apie produktą
Kelionės niekada nebus tokios pačios, kaip su 1962-ųjų "Volkswagen T1" kemperiu.
Prekė

10220
VIP taškai

937
Amžiaus grupės

16+
Dalys

1334
Savybės
Šis autentiškas automobilis furgonas yra 1962-ųjų klasikinio "Volkswagen" kemperio kopija. Jis turi visus legendinius atributus! Tarp nuostabių detalių iš išorės priekyje yra V formos trijų spalvų atskyrimas, suapvalintas stogas ir langų rėmai, atidaromas safario tipo priekinis stiklas, atidaromos durys, legendinis iššokantis stogas su tekstilės užuolaidomis, stogo bagažinė, galinės oro įleidimo angos ir dar daugiau! Detalės viduje yra tokios pat įspūdingos: nuo autentiško VW oru aušinamo plokščio keturių cilindrų opozicinio variklio, priekinės salono sėdynės, pavarų svirties, kampinio prietaisų skydelio ir legendinio sferinio spidometro iki unikalių LEGO priedų, kaip antai sulankstomos galinės sėdynės, sulankstomo stalo, spintos su veidrodžiu ir net paveikslo! Nuo 16 metų amžiaus. 1 322 detalės.
Papildomi išorės elementai: 11 langų, autentiškos languoto audinio užuolaidos ir šoninis veidrodėlis.
Galinės durys atsidaro ir atidengia detalų variklį.
Viduje taip pat yra galinė sėdynė, kuri virsta lova, marškinėliai su užrašu "Konstruok LEGO modelius, o ne kariauk" ir galinė lentyna su augalu.
Matmenys: 30 cm (11,8 col.) ilgio ir 16 cm (6,3 col.) aukščio.
Konstravimo instrukcijos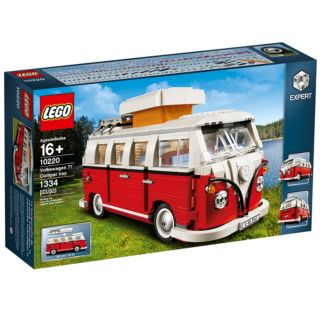 Customer Reviews
Overall Rating
Average rating4.7out of 5 stars
94% would recommend this product.
Rating
Overall Experience
Play Experience
Average rating4.3out of 5 stars
Level of Difficulty
Average rating3.7out of 5 stars
Value for Money
Average rating4.5out of 5 stars
Atkreipkite dėmesį, kad kartu su peržiūra pateikus naudingumo įvertinimą, jūsų IP adresas išsaugomas ir laikomas mūsų trečiosios šalies paslaugų tiekėjo. Tai atliekama todėl, kad iš vieno IP adreso nebūtų pateikiama keletas įrašų. Norėdami sužinoti, kaip valdyti savo asmeninius duomenis, žr. mūsų privatumo politiką<./a>.
Reviews