Creator Expert
LEGO®
Volkswagen Beetle
Galima įsigyti dabar
Volkswagen Beetle

4.8442

5

77

.
Average rating4.8out of 5 stars
Įspėjimas!
Pavojus užspringti.
Smulkios dalys.
RASKITE DAUGIAU PANAŠIŲ PRODUKTŲ
Išsami informacija apie produktą
Keliauk į paplūdimį "VW Beetle"!
Prekė

10252
VIP taškai

825
Amžiaus grupės

16+
Dalys

1167
Savybės
Mėgaukis legendiniu "VW Beetle" su šia nuostabia LEGO® Creator Expert kopija. Detalų modelį sudaro specialūs priedai ir elementai, padedantys atkurti išskirtines "Beetle" savybes, įskaitant žydrai mėlyną spalvų paletę, išlenktus sparnus, plokščią priekinį stiklą, VW logotipą ir autentišką 4 cilindrų oru aušinamą variklį bei degalų baką. Viduje, kurį galima apžiūrėti, yra smėlio spalvos, į priekį pakreipiamos sėdynės, prietaisų skydas ir vairas. Taip pat yra prie stogo tvirtinama banglentė ir šaldiklis – juos abu galima nuimti. Šis modelis sukurtas suteikti nelengvą konstravimo iššūkį, bet džiugina galutiniu rezultatu ir dvelkia nostalgija.
7-ojo dešimtmečio banglentininkų "VW Beetle" pasižymi įvairiomis iš kaladėlių sukonstruotomis detalėmis, įskaitant žydrai mėlyną spalvų paletę, išlenktus sparnus, baltus ratlankius su išskirtiniais gaubtais, apvalius priekinius žibintus, ant sparno montuojamus posūkio signalus ir atidaromą variklio dangtį, bagažinę bei duris.
Rinkis iš keturių skirtingų valstybinio numerio ženklo lipdukų savo modeliui.
Nuimk šaldiklį ir banglentę nuo stogo skersinių.
Palenk galinę sėdynę į priekį ir rask medžiaginio paplūdimio rankšluosčio vietą.
Pakelk variklio dangtį ir pamatyk atsarginę padangą bei degalų baką.
Atidaryk bagažinę ir apžiūrėk autentišką 4 cilindrų oru vėsinamą variklį.
Atidaryk duris arba nuimk stogą ir apžiūrėk detalų smėlio spalvos vidų su prietaisų skydeliu, vairu ir atlenkiamomis priekinėmis bei galinėmis sėdynėmis.
Apžiūrėk puikiąsias iš kaladėlių sukonstruotas detales!
Specialūs elementai: apvali plytelė su atspausdintu VW logotipu, arkiniai sparnai ir atnaujintas priekinio stiklo dizainas.
Rinkinį sudaro daugiau kaip 1 000 LEGO® detalių.
Rinkinys skirtas konstruoti nuo 16 metų amžiaus.
"VW Beetle", įskaitant banglentę ir šaldiklį, yra virš 15 cm (5 col.) aukščio, 29 cm (11 col.) ilgio ir 11 cm (4 col.) pločio.
Konstravimo instrukcijos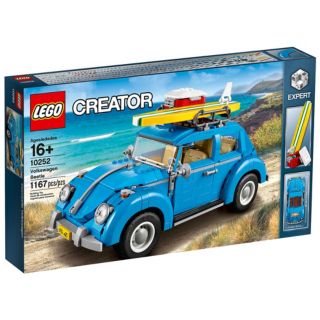 Customer Reviews
Overall Rating
Average rating4.8out of 5 stars
100% would recommend this product.
Rating
Overall Experience
Play Experience
Average rating4.4out of 5 stars
Level of Difficulty
Average rating3.1out of 5 stars
Value for Money
Average rating4.7out of 5 stars
Atkreipkite dėmesį, kad kartu su peržiūra pateikus naudingumo įvertinimą, jūsų IP adresas išsaugomas ir laikomas mūsų trečiosios šalies paslaugų tiekėjo. Tai atliekama todėl, kad iš vieno IP adreso nebūtų pateikiama keletas įrašų. Norėdami sužinoti, kaip valdyti savo asmeninius duomenis, žr. mūsų privatumo politiką<./a>.
Reviews