Creator Expert
LEGO®
Tadžmahalas
Galima įsigyti dabar
Tadžmahalas

4.6721

5

61

.
Average rating4.7out of 5 stars
Įspėjimas!
Pavojus užspringti.
Smulkios dalys.
RASKITE DAUGIAU PANAŠIŲ PRODUKTŲ
Išsami informacija apie produktą
Atrask Tadžmahalą – architektūros stebuklą!
Prekė

10256
VIP taškai

3000
Amžiaus grupės

16+
Dalys

5923
Savybės
Sukonstruok ir atrask LEGO® Creator Expert Tadžmahalą. Agros mieste Indijoje įsikūręs milžiniškas dramblio kaulo baltumo marmuro mauzoliejus yra pripažintas vienu iš pasaulio architektūros stebuklų. 1631 m. jį užsakė imperatorius Džahanšachas, norėdamas pagerbti savo žmonos, imperatorienės Mumtaz Mahal, atminimą. Šioje 2008 m. atnaujintoje LEGO versijoje yra 4 statinio fasadai su plačiomis arkomis, balkonais ir arkiniais langais. Centrinis kupolas, gretimi priestatai su kupolais ir minaretai yra padabinti dekoratyvinėmis smailių viršūnėmis, o puošni pakyla turi daugybę įleistų arkų. Modelį užbaigia visur esančios vaizdingos detalės ir smulkios plytelės, išklotos po visą pagrindą. Šis rinkinys, kuriame yra daugiau nei 5 900 detalių, yra sukurtas džiuginti savo rezultatu ir gali tapti puikiu namų ar biuro akcentu.
Realaus architektūros stebuklo – Tadžmahalo – LEGO® versija.
2008 m. perleistame modelyje yra 4 fasadai su arkomis ir arkiniais langais, centrinis kuponas su 4 priestatais su kupolais ir 4 minaretais, papuoštais dekoratyvinėmis smailių viršūnėmis, puošni platforma su įleistomis arkomis, vaizdingų detalių ir smulkių plytelių, kuriomis išklotas visas pagrindas.
Padalijamas į 7 modulines dalis, kad būtų lengviau pernešti.
Išbandyk savo LEGO® konstravimo įgūdžius su vienu didžiausių LEGO modelių!
Tarp specialių elementų yra 6 mėlynos 16x32 pagrindo plokštės, baltos 1x5x4 kaladėlės su kaspinu, daug permatomų elementų, "Erlingo" kaladėlės ir "šokliosios" plokštės.
Rinkinį sudaro daugiau kaip 5 900 LEGO® detalių.
Matmenys: virš 43 cm (16 col.) aukščio, 51 cm pločio (20 col.) ir 51 cm (20 col.) gylio.
Konstravimo instrukcijos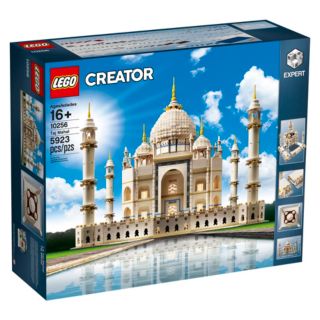 Customer Reviews
Overall Rating
Average rating4.7out of 5 stars
92% would recommend this product.
Rating
Overall Experience
Play Experience
Average rating3.8out of 5 stars
Level of Difficulty
Average rating3.8out of 5 stars
Value for Money
Average rating4.5out of 5 stars
Atkreipkite dėmesį, kad kartu su peržiūra pateikus naudingumo įvertinimą, jūsų IP adresas išsaugomas ir laikomas mūsų trečiosios šalies paslaugų tiekėjo. Tai atliekama todėl, kad iš vieno IP adreso nebūtų pateikiama keletas įrašų. Norėdami sužinoti, kaip valdyti savo asmeninius duomenis, žr. mūsų privatumo politiką<./a>.
Reviews