Minecraft™
LEGO®
Nuotykiai ant uolos
Galima įsigyti dabar
Nuotykiai ant uolos

3.8333

5

6

.
Average rating3.8out of 5 stars
Įspėjimas!
Pavojus užspringti.
Smulkios dalys.
RASKITE DAUGIAU PANAŠIŲ PRODUKTŲ
Išsami informacija apie produktą
Leiskis į požemį, ieškoti LEGO® Minecraft™ nuotykių ant uolos!
Prekė

21147
VIP taškai

825
Amžiaus grupės

8+
Dalys

644
Savybės
Leiskis kopėčiomis į "Minecraft™" Tikrąjį pasaulį su šiuo "LEGO® Minecraft 21147 Nuotykių ant uolos" rinkiniu. Naudodamasis deimantiniu kirtikliu arba sprogdindamas trotilą kask vulkaninį stiklą ir 7 rūšių rūdą bei keliauk olomis ir kasyklomis, pilnomis vandens ir lavos krioklių. Kovok su įvairiausiais priešais, įskaitant uolos vorą, zombį, Creeper™ ir sidabrinę žuvelę, kurie išlenda, vos tau pradėjus kirsti akmenis! Mėgaukis nuotykiais su šiuo "LEGO® Minecraft™" rinkiniu, sukurtu itin sėkmingo kompiuterinio žaidimo gerbėjams. Perkurk šį modelį keisdamas dalis ir derink su kitais rinkiniais, kad sukurtum savo nepakartojamą "LEGO Minecraft" visatą. Rinkinyje taip pat yra Aleks ir Styvo minifigūrėlės bei šikšnosparnio figūrėlė.
Rinkinyje yra 2 mini figūrėlės: Styvas ir Aleks, bei Creeper™, uolos voro, zombio, šikšnosparnio ir 2 sidabrinių žuvelių figūrėlės. ● Rinkinyje yra pastatoma "LEGO® Minecraft™" aplinka su Tikrojo pasaulio, kasyklų ir uolų lygiais, sujungtais kopėčiomis, bei besisukanti uolos vorų perykla, trotilo sprogmenys, sidabrinių žuvelių veisykla, medis, voratinkliai, grybai, vulkaninis stiklas, lavos bei vandens kriokliai ir 7 rūšių rūda. ● Nuskink nuo medžio raudoną obuolį ir pagausinsi savo maisto atsargas. ● Leiskis kopėčiomis, vedančiomis nuo Tikrojo pasaulio iki uolų. ● Apsivilk geležinius šarvus, čiupk geležinį kardą ir pasiruošk kovai su uolos voru. ● Saugokis klajojančio Creeper™ ir tūnančio zombio. ● Pasinaudok trotilo sprogmenimis ir išsprogdink uolienas. ● Kas vulkaninį stiklą ir 7 rūšių rūdą deimantiniu kirtikliu, bet saugokis monstrų kiaušinių blokų, iš kurių išlenda priešiškos sidabrinės žuvelės! ● Rinkinyje yra šie ginklai: kardas ir kirtiklis. ● Rinkinyje pridėti skydas, šarvai, kastuvas, kibiras, deglai, darbastalis, žaizdras ir skrynia. ● Nesunkiai perdėliojamas modulinis dizainas su 2 alternatyviais modelių variantais. ● Išlaisvink savo vaizduotę – perkonstruok LEGO® Minecraft™ rinkinį ir sukurk daugiau modelių! ● Rinkinį sudaro daugiau kaip 640 dalių. ● Nuotykių ant uolos rinkinys yra daugiau kaip 20 cm aukščio, 35 cm pločio ir 14cm ilgio.
Konstravimo instrukcijos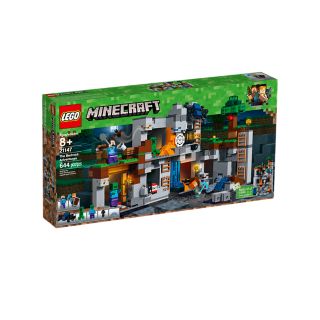 Customer Reviews
Overall Rating
Average rating3.8out of 5 stars
67% would recommend this product.
Rating
Overall Experience
Play Experience
Average rating4.7out of 5 stars
Level of Difficulty
Average rating2.7out of 5 stars
Value for Money
Average rating3out of 5 stars
Atkreipkite dėmesį, kad kartu su peržiūra pateikus naudingumo įvertinimą, jūsų IP adresas išsaugomas ir laikomas mūsų trečiosios šalies paslaugų tiekėjo. Tai atliekama todėl, kad iš vieno IP adreso nebūtų pateikiama keletas įrašų. Norėdami sužinoti, kaip valdyti savo asmeninius duomenis, žr. mūsų privatumo politiką<./a>.
Reviews