Nemokamos išskirtinės LEGO® juodosios kortelės figūrėlių atramos
LEGO®
Nemokamos išskirtinės LEGO® juodosios kortelės figūrėlių atramos
Nemokama prekė
Nemokamos išskirtinės LEGO® juodosios kortelės figūrėlių atramos

1.3333

5

3

.
rating.prefix1.3rating.postfix
Išsami informacija apie produktą
Prekė

5005747
VIP taškai

0
Amžiaus grupės

10+
Savybės
Nemokamos išskirtinės LEGO® juodosios kortelės figūrėlių atramos (5005747) pasiūlymas galioja VIP juodosios kortelės užsakymams shop.LEGO.com nuo 2018-12-07 iki 2018-12-31 arba tol, kol baigsis atsargos. Norėdamas juo pasinaudoti, įsigyk LEGO Star Wars™ prekių. Šis pasiūlymas netaikomas kaladėlių ir dalių užsakymams. Vienas rinkinys šeimai. Pasiūlymas negali būti pritaikytas ankstesniems užsakymams ar kartu su kitomis nuolaidomis, pasiūlymais ar nemokamomis dovanomis. Jeigu pasinaudojote pasiūlymu, tačiau nusprendėte grąžinti su juo susijusį LEGO užsakymą, kartu su atitinkamu LEGO užsakymu turi būti grąžinta ir dovana. Bendra suma už prekes skaičiuojama po VIP taškų panaudojimo. Jokie taikomi mokesčiai, pristatymo įkainiai ar įsigytų dovanų kortelių suma neįskaičiuojami į bendrą sumą. Dovanos negalima įsigyti ar pakeisti jokia kita preke ar pinigais. Pasiūlymas negalioja LEGOLAND® parkuose, "LEGOLAND Discovery" centruose, LEGO sertifikuotosiose parduotuvėse ir mobiliosiose pardavimo vietose. "LEGO Group" pasilieka teisę atšaukti ar pakeisti šį pasiūlymą bet kuriuo metu be išankstinio įspėjimo. Reikia turėti VIP juodąją kortelę.
Konstravimo instrukcijos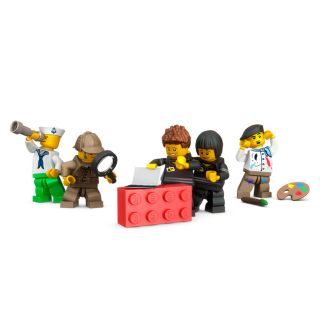 Customer Reviews
Overall Rating
rating.prefix1.3rating.postfix
Rating
Overall Experience
Play Experience
rating.prefix1.3rating.postfix
Level of Difficulty
rating.prefix1.3rating.postfix
Value for Money
rating.prefix1rating.postfix
Atkreipkite dėmesį, kad kartu su peržiūra pateikus naudingumo įvertinimą, jūsų IP adresas išsaugomas ir laikomas mūsų trečiosios šalies paslaugų tiekėjo. Tai atliekama todėl, kad iš vieno IP adreso nebūtų pateikiama keletas įrašų. Norėdami sužinoti, kaip valdyti savo asmeninius duomenis, žr. mūsų privatumo politiką<./a>.
Reviews
rating.prefix1rating.postfix

Full year of exclusive benefits.... the coffin!

As a set, this is fine, not amazing; but satisfactory. As others and the online community are saying: this is the coffin for a tremendous letdown. Never again will us AFOL be fooled into buying in early. At month 12 of 12 in 2018, we were supposed to be seeing a FULL YEAR of these promised promos, I'm sure you could see how many of us are feeling left out or deceived. Where are the "elite" and "special" etc Black VIP card benefits and promos? The ones I've seen have been mediocre, akin to the rest of regular VIP benefits. "This is a truly unique set and your purchase of the set does entitle you to receive the collectible LEGO® Star Wars™ VIP card. This card will also entitle the VIP member to a FULL YEAR of special LEGO Star Wars content and promotions. LEGO VIP members who have this card will become part of a Star Wars elite tier that is eligible for special content and promotions throughout 2018." I hope there can be some trust gained back by LEGO to us loyal Star Wars fans who put down the $800 in 2017 with promises abound for the coming year. Emphasis on FULL YEAR, we're at like 1 or 2 out of 12. Let's make it right with the start of 2020 LEGO, what do you say?

Play Experience

rating.prefix1rating.postfix

Level of Difficulty

rating.prefix1rating.postfix

Value for Money

rating.prefix1rating.postfix

Building Experience:

Advanced LEGO builder

1

5

rating.prefix2rating.postfix

This is it? The Black VIP card holder is all they

I have been waiting for the promised Black VIP card events and promotions since I stood in line, and ended up ordering online the day it was released, the UCS Millennium Falcon. Several minor promotions came around, May the 4th was a non event, Lego really missed an opportunity to do something exceptional here, after building up everyone's expectations throughout the year, to come up with this set, its disappointing to say the least. After missing the escape the space slug set, I thought this promo would match or exceed that, I was wrong. The comicon convention exclusives far outshine the Star Wars Black VIP card promo also, this is on the order of a free build at Toys R US or B&N, not commensurate with buying an $800 set and waiting months for it to be delivered.

Play Experience

rating.prefix2rating.postfix

Level of Difficulty

rating.prefix2rating.postfix

Value for Money

rating.prefix1rating.postfix

Building Experience:

Expert LEGO builder

2

5

rating.prefix1rating.postfix

Repost since LEGO deleted this last time... This is the last of the "year fill of Star Wars themed rewards" we were promised with the Black VIP card and I couldn't be more let down. This is quite literally a coffin for your Black Card that you likely never used because LEGO never put forth a promo worth getting out of your chair for. The Minifigure is uninspired and the build is simplistic. This "promo" AKA let me spend $9 for a keychain shipped wouldn't be all bad if we really did have a full year of Star Wars promos. But we didn't. LEGO should be ashamed. 0/10.

Play Experience

rating.prefix1rating.postfix

Level of Difficulty

rating.prefix1rating.postfix

Value for Money

rating.prefix1rating.postfix

Building Experience:

Expert LEGO builder

1

5