NINJAGO®
LEGO®
NINJAGO® gaudynės mieste
Nebetiekiamas produktas
NINJAGO® gaudynės mieste

4.6316

5

19

.
Average rating4.6out of 5 stars
RASKITE DAUGIAU PANAŠIŲ PRODUKTŲ
Išsami informacija apie produktą
Pažabok nusikalstamumą NINJAGO® miesto gatvės turguje!
Prekė

70607
Amžiaus grupės

7-14
Dalys

233
Savybės
Susivienyk su Lloyd Garmadon, Nya ir Officer Toque, kad neleistum Shark Army Thug apiplėšti gatvės maisto prekybininko NINJAGO® City gaudynėse. Šiame nuostabiame THE LEGO® NINJAGO MOVIE™ rinkinyje 3 triratė policijos transporto priemonė, gatvės maisto prekystalis su maisto produktų rinkiniu bei 2 stulpai su jungiamąja grandine šventiniams NINJAGO žibintams. Rinkinyje taip pat yra 5 minifigūrėlės su įvairiais ginklais ir priedais, išplečiančiais žaidimų vaidmenimis galimybes.
Rinkinyje yra 5 miniatiūrinės figūrėlės: Loydas Garmadonas ir Nya (abu yra su nauja, 2017 m. rugpjūtį išleista dekoracija mokyklos aprangai), pareigūnas Toque, ryklių armijos banditas, ir Hamas.
Policijos automobilyje yra sėdynė vairuotojui ir galinė sėdynė keleiviui, jis turi 3 ratus ir šviesiai mėlynos ir raudonos spalvos švieselių imitacijas.
Gatvės maisto prekystalis turi iškabą, raudoną stoginę, ženklus, pranešančius, kad parduodama žuvis ir vyšnios, 2 dėžes ir pusę statinės įvairių gėrybių, įskaitant 3 vyšnias, 3 obuolius ir 2 žuvis.
Į rinkinį įeina 2 žibintų stovai su permatomomis, raudoną šviesą imituojančiomis detalėmis; šventinių NINJAGO® žibintų girlianda su raudoną šviesą imituojančiomis detalėmis.
Ginklai: ryklių armijos bandito kūjis su žuvies imitacija ant rankenos.
Priedai: Loydo Garmadono sodos vanduo, Nya mobilusis telefonas, pareigūno Toque antrankiai ir Hamo pinigai.
Atkurk ir žaisk jaudinančias scenas iš "LEGO®" "NINJAGO®" filmo.
Policijos automobilio matmenys: aukštis 7 cm, ilgis 7 cm, plotis 3 cm.
Gatvės maisto prekystalio matmenys: aukštis 11 cm, plotis 9 cm, ilgis 3 cm.
Žibintų stulpų su žibintų girliandomis matmenys: aukštis 14 cm, plotis 19 cm, ilgis 3 cm.
Konstravimo instrukcijos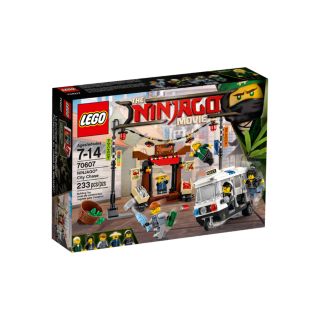 Customer Reviews
Overall Rating
Average rating4.6out of 5 stars
95% would recommend this product.
Rating
Overall Experience
Play Experience
Average rating4.5out of 5 stars
Level of Difficulty
Average rating1.7out of 5 stars
Value for Money
Average rating4.5out of 5 stars
Atkreipkite dėmesį, kad kartu su peržiūra pateikus naudingumo įvertinimą, jūsų IP adresas išsaugomas ir laikomas mūsų trečiosios šalies paslaugų tiekėjo. Tai atliekama todėl, kad iš vieno IP adreso nebūtų pateikiama keletas įrašų. Norėdami sužinoti, kaip valdyti savo asmeninius duomenis, žr. mūsų privatumo politiką<./a>.
Reviews