Creator Expert
LEGO®
Linksmieji kalneliai
Galima įsigyti dabar
Linksmieji kalneliai

4.6526

5

95

.
Average rating4.7out of 5 stars
Įspėjimas!
Pavojus užspringti.
Smulkios dalys.
RASKITE DAUGIAU PANAŠIŲ PRODUKTŲ
Išsami informacija apie produktą
Pasivažinėk puikiausiais linksmaisiais kalneliais!
Prekė

10261
VIP taškai

3000
Amžiaus grupės

16+
Dalys

4124
Savybės
Patirk puikiausio atrakcionų parko greitį, jaudulį ir džiaugsmą su šiais nuostabiais LEGO® Creator Expert 10261 Linksmaisiais kalneliais. Šis įvairiomis funkcijomis pasižymintis modelis su grandininiu keltuvu turi 2 traukinukus ir gausybę autentiškų detalių ir funkcijų, įskaitant bilietų kasą, cukraus vatos vežimėlį, užkandžių kioską ir įlaipinimo platformą su stogeliu, atidaromais užtvarais ir valdymo skydeliu. Nuleisk apsaugas, kad keleiviai saugiai sėdėtų vagonėliuose, ir atleisk stabdį, kad traukinukas pradėtų kilti į pirmąją viršūnę. Tada įjunk grandininį keltuvą ir grožėkis, kaip traukinukas savo eiga lekia linksmųjų kalnelių kilpomis ir vingiais. Papildyk linksmuosius kalnelius LEGO Power Functions, kad grandininį keltuvą suktų varikliukas, arba LEGO BOOST judesio jutikliu ir realistiškai garso efektais! Šis neįtikėtinas kolekcinis žaislas sukurtas suteikti nelengvą konstravimo iššūkį, bet džiugina galutiniu rezultatu ir dvelkia nostalgija bei žavesiu. Rinkinyje yra 11 mini figūrėlių.
Su 11 minifigūrėlių: cukraus vatos pardavėju, 2 atrakcionų darbuotojais, 2 seneliais su anūkėle ir 5 lankytojais. 8 minifigūrėlės turi apsukamas galvas, kad būtų galima keisti jų veido išraišką.
Veikiantis linksmųjų kalnelių su grandininiu keltuvu modelis turi klasikinį iš kaladėlių sukonstruotą ženklą, valdymo pultą, 2 traukinukus, sudarytus iš 3 vagonėlių su lengvai besisukančiais ratukais, ir 44 dalių trasą iš 7 skirtingų bėgių elementų.
Taip pat yra bilietų kasa, fontanas, cukraus vatos vežimėlis, gardumynų kioskas, laukimo vieta su suoliuku, fotoaparatas ir tvenkinys su varlės figūrėle.
Įsigyk bilietą kasoje ir trauk į uždarą aikštelę.
Ūgio matuoklio neapgausi – atrakciono prižiūrėtojas turi tikslią matavimo lazdelę!
Susodink keleivius į vagonėlius ir nuleisk apsauginius rėmus.
Atleisk stabdžius, kad vagonėliai pajudėtų link pirmosios įkalnės.
Įjunk grandininį keltuvą, kad vagonėliai pakiltų iki pirmosios viršūnės.
Sukeisk bėgius, kad galėtum paleisti antrąjį traukinuką.
Gardumynų kioske pasiūlyk gaiviųjų gėrimų arba susuk cukraus vatos.
Nepamiršk šypsotis skriedamas pro fotoaparatą!
Papildyk linksmuosius kalnelius LEGO® Power Functions, kad grandininį keltuvą suktų varikliukas, arba LEGO BOOST, kad grandinė įsijungtų automatiškai ir būtų skleidžiami realistiškai garso efektai!
Šį šaunų rinkinį sudaro daugiau kaip 4 120 dalių.
Taip pat yra dekoruotų elementų: bilietas, pinigai, plytelės su rodyklėmis, slėgio matuoklis, skaičiau lentelė ir atrakciono valdymo pultas.
2018 birželį rinkinys papildytas specialiais elementais, tokiais kaip 2x8x6 bėgių nuolydis, 1x2x1 kaspino kaladėlė, augalų lapai, stiebai ir gėlės.
Kitus elementus sudaro ūgio matuoklis ir 2 porcijos cukraus vatos.
Puikiai tinka prie 10257 LEGO® Creator Expert Karuselės.
Matmenys: daugiau kaip 20 col. (53 cm) aukščio, 34 col. (88 cm) pločio ir 16 col. (41 cm) gylio.
Konstravimo instrukcijos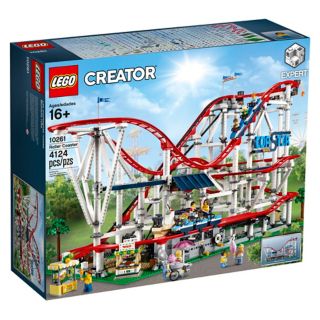 Prijunkite prie linksmųjų kalnelių variklį ir išplėskite savo kolekciją!
On slide of 4
Customer Reviews
Overall Rating
Average rating4.7out of 5 stars
95% would recommend this product.
Rating
Overall Experience
Play Experience
Average rating4.7out of 5 stars
Level of Difficulty
Average rating3.9out of 5 stars
Value for Money
Average rating4.1out of 5 stars
Atkreipkite dėmesį, kad kartu su peržiūra pateikus naudingumo įvertinimą, jūsų IP adresas išsaugomas ir laikomas mūsų trečiosios šalies paslaugų tiekėjo. Tai atliekama todėl, kad iš vieno IP adreso nebūtų pateikiama keletas įrašų. Norėdami sužinoti, kaip valdyti savo asmeninius duomenis, žr. mūsų privatumo politiką<./a>.
Reviews