Architecture
LEGO®
Laisvės statula
Galima įsigyti dabar
Laisvės statula

4.5636

5

55

.
Average rating4.6out of 5 stars
Įspėjimas!
Pavojus užspringti.
Smulkios dalys.
RASKITE DAUGIAU PANAŠIŲ PRODUKTŲ
Išsami informacija apie produktą
Sukurk įžymųjį laisvės simbolį – Laisvės statulą!
Prekė

21042
VIP taškai

900
Amžiaus grupės

16+
Dalys

1685
Savybės
Gerėkitės nuostabia architektūros ir skulptūros derme su LEGO® Architecture 21042 Laisvės statulos rinkiniu. Šis žymusis Amerikos laisvės simbolis, iškilęs beveik 100 metrų virš Laisvės salos Niujorko uoste, pasitinka atvykstančius jūra iš viso pasaulio. Šis įspūdinga LEGO versija nuosekliai atkuria harmoningą paminklo skulptūros ir architektūros dermę detaliu skydais dekoruotu pjedestalu, plytų raštu ir balkonais su kolonomis. Dailioji Laisvės statula turi mantiją, sutraukytas grandines, 7 spindulių karūną, žymiąja lentele ir iškeltoje rankoje laikomu auksiniu deglu. Šį autentiškų žalsvos ir smėlinės spalvų modelį su dekoratyvine pavadinimo lentele bus labai malonu konstruoti visiems besidomintiems architektūra, kelionėmis, istorija ir dizainu, be to, jis gali tapti centriniu namų arba biuro akcentu.
LEGO® Architecture architektūrinio Laisvės statulos paminklo versija.
Su kruopščiai atkurta pakyla, dekoruota skydais ir & plytų raštu, balkonais su kolonomis ir laisvės statula su mantija, 7 spindulių karūna, žymiąja lentele bei auksiniu deglu.
Pridedamoje knygelėje pateikiama informacija apie dizainą, architektūrą ir statymo istoriją (tik anglų ir prancūzų kalbomis. Kitų kalbų galima rasti adresu LEGO.com/architecture.
"LEGO® Architecture" rinkiniai architektūros pasaulį švenčia naudodami LEGO kaladėles ir sukurti visiems, kam įdomu kelionės, dizainas, architektūra ir istorija.
Rinkinį sudaro daugiau kaip 1 685 LEGO® dalių.
Imkitės maloniai sudėtingo, bet savo rezultatu džiuginančio konstravimo su šiuo LEGO® Architecture rinkiniu.
Matmenys: daugiau kaip 17 col. (44 cm) aukščio, 5 col. (14 cm) pločio ir 5 col. (14 cm) gylio.
Konstravimo instrukcijos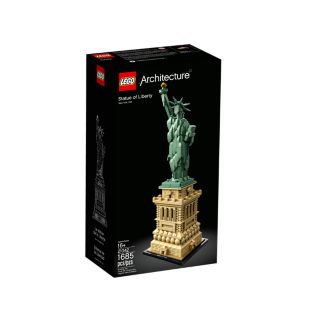 Customer Reviews
Overall Rating
Average rating4.6out of 5 stars
93% would recommend this product.
Rating
Overall Experience
Play Experience
Average rating3.4out of 5 stars
Level of Difficulty
Average rating3.7out of 5 stars
Value for Money
Average rating4.3out of 5 stars
Atkreipkite dėmesį, kad kartu su peržiūra pateikus naudingumo įvertinimą, jūsų IP adresas išsaugomas ir laikomas mūsų trečiosios šalies paslaugų tiekėjo. Tai atliekama todėl, kad iš vieno IP adreso nebūtų pateikiama keletas įrašų. Norėdami sužinoti, kaip valdyti savo asmeninius duomenis, žr. mūsų privatumo politiką<./a>.
Reviews