LEGO NINJAGO aksesuarų rinkinys

NINJAGO®
LEGO®
LEGO NINJAGO aksesuarų rinkinys
Price
14,99 €
10,49 €

Sale price
Galima įsigyti dabar
LEGO NINJAGO aksesuarų rinkinys

4.4

5

5

.
rating.prefix4.4rating.postfix
Įspėjimas!
Pavojus užspringti.
Smulkios dalys.
RASKITE DAUGIAU PANAŠIŲ PRODUKTŲ
Išsami informacija apie produktą
Apsiginkluok audringiems NINJAGO® mūšiams!
Prekė

853544
VIP taškai

10
Amžiaus grupės

6+
Dalys

36
Savybės
Susivienyk su Tournament Zane bei Samurai X ir kartu nugalėkite dangaus piratų kareivius su šiuo nuostabiu LEGO® NINJAGO® priedų rinkiniu! Puiki dovana LEGO NINJAGO rinkinių mėgėjams. Čia esančios 4 minifigūrėlės apginkluotos įvairiais šauniais ginklais ir priedais bei pasiruošusios legendiniams mūšiams.
Rinkinyje yra 4 mini figūrėlės su įvairiais ginklais ir priedais: Tournament Zane, Samurai X ir 2 dangaus piratų kareiviai.
Ginklai: Samurai X auksinė svaidomoji žvaigždė, Samurai ietis, Zane auksinė svaidomoji žvaigždė ir ledinė lazda bei dangaus piratų didelis kardas, 2 piratų kardai ir pistoletas.
Pridedama ir dangaus piratų deglo kaladėlė.
Atkurk legendines mūšių scenas iš "NINJAGO®: Masters of Spinjitzu" serialo.
Puiki dovana LEGO® NINJAGO® konstravimo rinkinių mėgėjams.
Rinkinyje yra daugiau nei 35 detalės, jis skirtas 6 metų ir vyresniems vaikams.
Konstravimo instrukcijos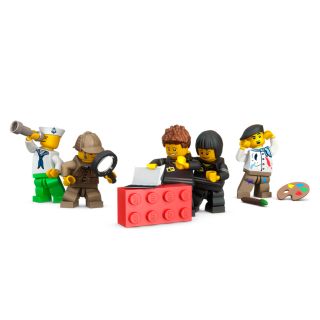 Customer Reviews
Overall Rating
rating.prefix4.4rating.postfix
100% would recommend this product.
Rating
Overall Experience
Play Experience
rating.prefix4.2rating.postfix
Level of Difficulty
rating.prefix1.4rating.postfix
Value for Money
rating.prefix3.6rating.postfix
Atkreipkite dėmesį, kad kartu su peržiūra pateikus naudingumo įvertinimą, jūsų IP adresas išsaugomas ir laikomas mūsų trečiosios šalies paslaugų tiekėjo. Tai atliekama todėl, kad iš vieno IP adreso nebūtų pateikiama keletas įrašų. Norėdami sužinoti, kaip valdyti savo asmeninius duomenis, žr. mūsų privatumo politiką<./a>.
Reviews