Creator Expert
LEGO®
Konstravimo aikštė
Galima įsigyti dabar
Konstravimo aikštė

4.8175

5

137

.
Average rating4.8out of 5 stars
Įspėjimas!
Pavojus užspringti.
Smulkios dalys.
RASKITE DAUGIAU PANAŠIŲ PRODUKTŲ
Išsami informacija apie produktą
Atšvęsk dešimtąjį "Modular Building" jubiliejų Konstravimo aikštėje!
Prekė

10255
VIP taškai

2025
Amžiaus grupės

16+
Dalys

4002
Savybės
Pasivaikščiok puikiąja Konstravimo aikšte, kuri buvo sukurta švenčiant LEGO® Modular Buildings dešimtmetį. Joje yra gausu nepakartojamų, kruopščių detalių ir paslėptų siurprizų. Lengvai nuimamos pastato dalys leidžia apžiūrėti labai detalų vidų: pirmą aukštą su kepykla, gėlių parduotuve ir kavine, vidurinį aukštą su muzikos parduotuve, fotostudija ir dantų gydytojo kabinetu ir viršutinį aukštą su šokių studija ir butu, iš kurio galima patekti į terasą ant stogo su kepsnine. Pastato išorėje yra detalus šaligatvis su lauko kavinės baldais, fontanu, gatvės žibintais ir labai įmantriu fasadu su gražiais langais ir durimis, 3 konstruojamomis parduotuvių iškabomis, smailiu bokštu ir puošniu stogo kraštu. Rinkinyje yra 8 figūrėlės ir kūdikis.
Rinkinyje 8 figūrėlės: dantų gydytojas, barista, kepėjas, gėlininkas, muzikos parduotuvės padėjėjas, šokėjas, fotografas ir LEGO® gerbėjas. Taip pat yra kūdikio figūrėlė.
3 aukštų Konstravimo aikštėje yra autentiškas, detalus fasadas su detaliais langais ir durimis, 3 konstruojamomis parduotuvių iškabomis, smailiu bokštu, puošniu stogo kraštu ir stogo terasa, taip pat detaliu, plytelėmis išklotu šaligatviu su fontanu, lauko kavinės baldais ir 2 gatvės žibintais.
Pirmame aukšte yra kepykla su prekystaliu, kasos aparatu, lentynomis, atidaroma orkaite, vestuviniu tortu ir įvairiais konstruojamais pyragaičiais bei skanėstais, gėlių parduotuvė su prekystaliu, kasos aparatu, sodo įrankiais, gėlių kompozicijomis, puokštėmis bei mėlynai geltona papūga ir kavinė su espreso kavos aparatu, prekystaliu, suoliuku ir pyragu.
Viduriniame aukšte yra muzikos parduotuvė su konstruojamu būgnų komplektu ir saksofonu, fotostudija su konstruojamu klasikiniu fotoaparatu bei reguliuojamu trikoju ir dantų gydytojo kabinetas su konstruojama atlenkiama kėde, laukiamuoju, telefonu ir kriaukle.
Viršutiniame aukšte yra šokių studija su konstruojamu pianinu ir atspindinčiu veidrodžiu, butas su konstruojama išskleidžiama sofa-lova, detalia virtuve, tualetu, LEGO® traukinuku, moduliniais pastatais, Eifelio bokštu ir įėjimu į terasą, kurioje yra konstruojama kepsninė, stalas ir neprižiūrėtas augalas.
Priedai: balerinos sijonas, čihuahua, riestainis, dekoratyvinis viščiukas ir saldainis. Taip pat yra konstruojamas telefonas, kepsninė, kūdikio vežimėlis ir konstruojamos lempos.
Nuėmęs pastato dalis apžiūrėk detalų interjerą.
Atšvęsk "Modular Buildings" gimtadienį su šiuo nuostabiu dešimtmečiui skirtu LEGO® Creator Expert rinkiniu!
Rinkinį sudaro daugiau kaip 4 000 detalių.
Naujoje 2017 m. kolekcijoje yra dekoruotų elementų su dantų gydytojo liemeniu, dantų gydytojo langu ir 2x3 plytele su 10182 Kampo kavinės dėžutės priekiu.
Rinkinyje yra daug lenktų ir kampinių plytelių, garažo durys, naudojamos kaip langai, ir LEGO® Technic ekskavatoriaus kaušai, naudojami kaip stogo elementai.
Surink ir pastatyk visą miestą iš LEGO® Creator Expert Modular Building serijos: 10243 Paryžiaus restoraną, 10246 Detektyvo biurą ir 10251 Kaladėlių banką.
Matmenys: virš 35 cm (13 col.) aukščio, 38 cm (14 col.) pločio ir 25 cm (9 col.) gylio.
Konstravimo instrukcijos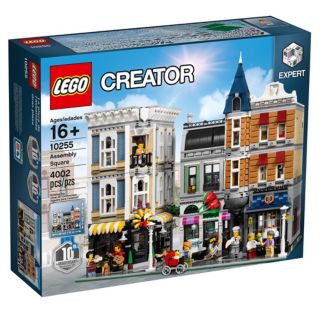 Customer Reviews
Overall Rating
Average rating4.8out of 5 stars
96% would recommend this product.
Rating
Overall Experience
Play Experience
Average rating4.6out of 5 stars
Level of Difficulty
Average rating3.7out of 5 stars
Value for Money
Average rating4.4out of 5 stars
Atkreipkite dėmesį, kad kartu su peržiūra pateikus naudingumo įvertinimą, jūsų IP adresas išsaugomas ir laikomas mūsų trečiosios šalies paslaugų tiekėjo. Tai atliekama todėl, kad iš vieno IP adreso nebūtų pateikiama keletas įrašų. Norėdami sužinoti, kaip valdyti savo asmeninius duomenis, žr. mūsų privatumo politiką<./a>.
Reviews