James Bond™ Aston Martin DB5

Creator Expert
LEGO®
James Bond™ Aston Martin DB5
Galima įsigyti dabar
James Bond™ Aston Martin DB5

4.7097

5

155

.
Average rating4.7out of 5 stars
Įspėjimas!
Pavojus užspringti.
Smulkios dalys.
RASKITE DAUGIAU PANAŠIŲ PRODUKTŲ
Išsami informacija apie produktą
Atskleisk Bondo... Džeimso Bondo Aston Martin DB5 paslaptis!
Prekė

10262
VIP taškai

1200
Amžiaus grupės

16+
Dalys

1295
Savybės
Gauk leidimą konstruoti su puikiuoju LEGO® Creator Expert 10262 James Bond™ Aston Martin DB5. Ši įspūdinga modelio kopija įkūnija agento 007 žymiojo 1965 metų sportinio automobilio eleganciją ir nesenstantį rafinuotumą, be to jis turi daugybę autentiškų detalių ir veikiančių mechanizmų. Atidaręs dureles rasi detalų interjerą su slaptu sekimo kompiuteriu ir durelėse įmontuotu telefonu. Vykdydamas slaptą užduotį, katapultuok keleivio sėdynę, persuk automobilio numerius, pakelk galinio stiklo skydą, ištrauk ratų spyglius ir pasuk pavarų svirtį, kad iš priekinių sparnų išlįstų kulkosvaidžiai. Šis kolekcinis modelis taip pat turi detalų išilginį 6 cilindrų variklį, lakuotus priekinį ir galinį bamperius, lietus sidabrinius stipinų ratlankius ir Aston Martin ženklelius gale ir priekyje. Modelis sukurtas siekiant suteikti nostalgišką, sudėtingą ir malonią konstravimo patirtį, todėl jį tiesiog būtina įsigyti Aston Martin DB5, Džeimso Bondo filmų ir LEGO konstravimo rinkinių gerbėjams.
Autentiška 1965 metų Aston Martin DB5 sportinio automobilio kopija, pasižyminti klasikiniu dizainu su lakuotais sidabriniais priekiniu ir galiniu bamperiais, lietais sidabriniais stipinų ratlankiais, atsidarančia bagažine, variklio dangčiu ir durelėmis bei James Bond™ mechanizmų gausa, įskaitant veikiančia katapultuojančia sėdyne, pasisukančiais registracijos numeriais, galinio lango skydu nuo kulkų, priekinių sparnų kulkosvaidžiais ir prie ratų montuojamais peiliais padangoms.
Šis LEGO® James Bond™ Aston Martin DB5 modelis taip pat pasižymi atsidarančiomis durelėmis ir detaliu interjeru su paslėptu sekimo kompiuteriu ir durelių dėklu telefonui.
Pakelk variklio dangtį ir apžiūrėk detalų išilginį 6 cilindrų variklį.
Patrauk galinį bamperį, kad katapultuotum nepageidaujamus keleivius.
Pasuk registracijos numerius, pakelk galinio lango skydą nuo kulkų ir ištrauk prie ratų montuojamus peilius padangoms.
Patrauk pavarų perjungimo svirtį, kad pasirodytų priekinių sparnų kulkosvaidžiai.
Įsigyk kolekcinę Aston Martin DB5, pasirodžiusio klasikiniame James Bond™ Goldfinger filme, kopiją.
Šį rinkinį sudaro 1 290 dalys ir jis skirtas asmenims nuo 16 metų amžiaus
2018 metų rugpjūtį pasirodė ypatingi elementai: lakuota sliekinė jungtis, 2 x 4 col. kaladėlė ir 1 m sija bei 1 x 2 col. plytelė su grotelių raštu.
Matmenys: daugiau kaip 3 col. (10 cm) aukščio, 13 col. (34 cm) ilgio ir 4 col. (12 cm) pločio.
Konstravimo instrukcijos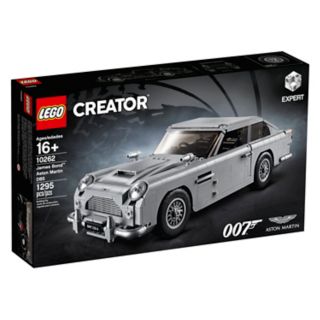 Customer Reviews
Overall Rating
Average rating4.7out of 5 stars
95% would recommend this product.
Rating
Overall Experience
Play Experience
Average rating4.5out of 5 stars
Level of Difficulty
Average rating3.8out of 5 stars
Value for Money
Average rating4.4out of 5 stars
Atkreipkite dėmesį, kad kartu su peržiūra pateikus naudingumo įvertinimą, jūsų IP adresas išsaugomas ir laikomas mūsų trečiosios šalies paslaugų tiekėjo. Tai atliekama todėl, kad iš vieno IP adreso nebūtų pateikiama keletas įrašų. Norėdami sužinoti, kaip valdyti savo asmeninius duomenis, žr. mūsų privatumo politiką<./a>.
Reviews