Harry Potter™
LEGO®
Grindelvaldo pabėgimas
Galima įsigyti dabar
Grindelvaldo pabėgimas

4.5294

5

17

.
Average rating4.5out of 5 stars
Įspėjimas!
Pavojus užspringti.
Smulkios dalys.
RASKITE DAUGIAU PANAŠIŲ PRODUKTŲ
Išsami informacija apie produktą
Neleisk Grindevaldui pabėgti savo karieta!
Prekė

75951
VIP taškai

262
Amžiaus grupės

7-14
Dalys

132
Savybės
Keliauk į fantastinę karalystę su "LEGO® Fantastiniai gyvūnai™ 75951 Grindelvaldo pabėgimas" į magišką mūšį tarp Serafinos Pikeri™ ir Grindelvaldo, su manevringa karieta atidaromomis durimis ir nuimamu stogu, pritvirtinta prie Testralio figūrėlės atlenkiamais sparnais. Naudok pridėtus šaudančius burtus, kad filmo "Fantastiniai gyvūnai ir kur juos rasti: Grindelvaldo nusikaltimai" magija atgytų ir žaisk didingą mūšį. Rinkinyje yra 2 minifigūrėlės.
Rinkinyje yra Gelerto Grindelvaldo ir Serafinos Pikeri™ minifigūrėlės bei Testralio figūrėlė su lanksčiais sparnais.
Pridėta sukonstruojama manevringa karieta su atidaromomis durimis ir nuimamu stogu.
Mojuok Testralio sparnais, skirsk ir pabėk nuo pavojaus!
Taip pat pridėti šaudantys burtai Serafinai ir Grindelvaldui.
Atkurk svarbiausias scenas iš filmo "Fantastiniai gyvūnai™".
Pridėtos 2 lazdelės.
Karieta su Testraliu yra daugiau kaip 8 cm aukščio, 25 cm ilgio ir 7 cm pločio.
Konstravimo instrukcijos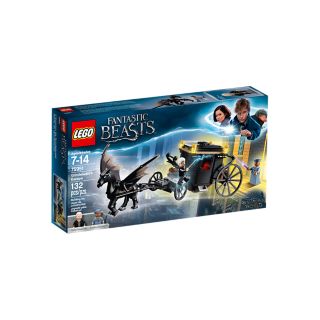 Customer Reviews
Overall Rating
Average rating4.5out of 5 stars
100% would recommend this product.
Rating
Overall Experience
Play Experience
Average rating4out of 5 stars
Level of Difficulty
Average rating2out of 5 stars
Value for Money
Average rating4.3out of 5 stars
Atkreipkite dėmesį, kad kartu su peržiūra pateikus naudingumo įvertinimą, jūsų IP adresas išsaugomas ir laikomas mūsų trečiosios šalies paslaugų tiekėjo. Tai atliekama todėl, kad iš vieno IP adreso nebūtų pateikiama keletas įrašų. Norėdami sužinoti, kaip valdyti savo asmeninius duomenis, žr. mūsų privatumo politiką<./a>.
Reviews