EV3 infraraudonųjų spindulių šviesos signalo įtaisas

MINDSTORMS®
LEGO®
EV3 infraraudonųjų spindulių šviesos signalo įtaisas
Galima įsigyti dabar
EV3 infraraudonųjų spindulių šviesos signalo įtaisas

5

5

3

.
rating.prefix5rating.postfix
Įspėjimas!
Pavojus užspringti.
Smulkios dalys.
RASKITE DAUGIAU PANAŠIŲ PRODUKTŲ
Išsami informacija apie produktą
Prekė

45508
VIP taškai

39
Amžiaus grupės

10+
Dalys

1
Savybės
This has been designed for use with the EV3 Infrared Seeker Sensor. The beacon emits an infrared signal which the sensor can track. The beacon can also be used as a remote control for the EV3 brick through signals sent to the infrared sensor.
Requires two AAA batteries
Four individual channels
Includes a beacon button and toggle switch to activate/deactivate
Green LED indicating if the beacon is active
Auto power-down if the unit is not in action for one hour
Working distance of up to two meters
Konstravimo instrukcijos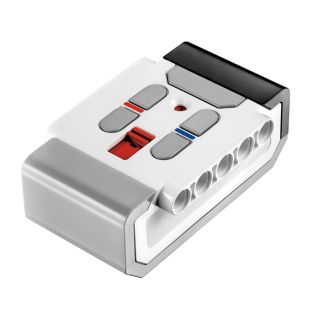 Customer Reviews
Overall Rating
rating.prefix5rating.postfix
100% would recommend this product.
Rating
Overall Experience
Play Experience
rating.prefix5rating.postfix
Level of Difficulty
rating.prefix3.3rating.postfix
Value for Money
rating.prefix3.3rating.postfix
Atkreipkite dėmesį, kad kartu su peržiūra pateikus naudingumo įvertinimą, jūsų IP adresas išsaugomas ir laikomas mūsų trečiosios šalies paslaugų tiekėjo. Tai atliekama todėl, kad iš vieno IP adreso nebūtų pateikiama keletas įrašų. Norėdami sužinoti, kaip valdyti savo asmeninius duomenis, žr. mūsų privatumo politiką<./a>.
Reviews
rating.prefix5rating.postfix

I would recommend this to a friend!

This is a cool piece of kit, comes with the lego EV3 Mindstorms set, so I don't really see why you would need another one, unless you had lost or damaged the original. It's an awesome thing. I use it in a robotics class and everyone can have a good time, however building the robots and using the Lego Programmer can be challenging. The value for money could be better, yet it is well worth it.

Play Experience

rating.prefix5rating.postfix

Level of Difficulty

rating.prefix4rating.postfix

Value for Money

rating.prefix3rating.postfix

5

5

rating.prefix5rating.postfix

I would recommend this to a friend!

For a young programmer this is good, but it is not a simple as scratch. If your child doesn't have an attention span don't get it. otherwise it is fantastic.

Play Experience

rating.prefix5rating.postfix

Level of Difficulty

rating.prefix4rating.postfix

Value for Money

rating.prefix3rating.postfix

Building Experience:

Intermediate LEGO builder

5

5

rating.prefix5rating.postfix

I would recommend this to a friend!

this remote is great what makes it even better is that it works with power functions

Play Experience

rating.prefix5rating.postfix

Level of Difficulty

rating.prefix2rating.postfix

Value for Money

rating.prefix4rating.postfix

5

5