EV3 didelis servovariklis

MINDSTORMS®
LEGO®
EV3 didelis servovariklis
Galima įsigyti dabar
EV3 didelis servovariklis

5

5

3

.
rating.prefix5rating.postfix
Įspėjimas!
Pavojus užspringti.
Smulkios dalys.
RASKITE DAUGIAU PANAŠIŲ PRODUKTŲ
Išsami informacija apie produktą
Prekė

45502
VIP taškai

34
Amžiaus grupės

10-21
Dalys

1
Savybės
The EV3 Large Servo Motor is a powerful motor that uses tacho feedback for precise control to within one degree of accuracy. By using the built-in rotation sensor, the intelligent motor can be made to align with other motors on the robot so that it can drive in a straight line at the same speed. It can also be used to give an accurate reading for experiments. The motor case design also makes it easy to assemble gear trains.
Tacho feedback to one degree of accuracy
160-170 RPM
Running torque of 20 N.cm (approximately 30 oz/in)
Stall torque of 40 N.cm (approximately 60 oz/in)
Auto-ID is built into the EV3 software
Konstravimo instrukcijos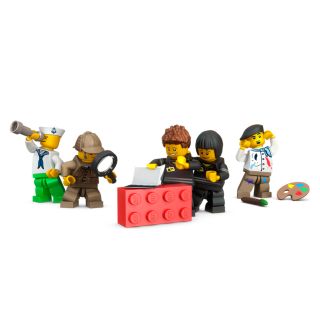 Customer Reviews
Overall Rating
rating.prefix5rating.postfix
100% would recommend this product.
Rating
Overall Experience
Play Experience
rating.prefix4.7rating.postfix
Level of Difficulty
rating.prefix4rating.postfix
Value for Money
rating.prefix4.7rating.postfix
Atkreipkite dėmesį, kad kartu su peržiūra pateikus naudingumo įvertinimą, jūsų IP adresas išsaugomas ir laikomas mūsų trečiosios šalies paslaugų tiekėjo. Tai atliekama todėl, kad iš vieno IP adreso nebūtų pateikiama keletas įrašų. Norėdami sužinoti, kaip valdyti savo asmeninius duomenis, žr. mūsų privatumo politiką<./a>.
Reviews
rating.prefix5rating.postfix

I would recommend this to a friend!

This motor is great, it has the right amount of speed and torque while still being practical. All of the mounting points make it great for large projects.

Play Experience

rating.prefix5rating.postfix

Value for Money

rating.prefix5rating.postfix

Building Experience:

Expert LEGO builder

5

5

rating.prefix5rating.postfix

I would recommend this to a friend!

Preforms very similar to the NXT motors, but much easier to mount and build into frames. I would recommend this both to customers wanting a 4th motor for their EV3 or as a replacement for worn NXT motors.

Play Experience

rating.prefix5rating.postfix

Value for Money

rating.prefix5rating.postfix

Building Experience:

Expert LEGO builder

5

5

rating.prefix5rating.postfix

I would recommend this to a friend!

The EV3 large motor is reliable. It is nice to have 1 or 2 extra for attachments or for 4-wheel drive.

Play Experience

rating.prefix4rating.postfix

Level of Difficulty

rating.prefix4rating.postfix

Value for Money

rating.prefix4rating.postfix

Building Experience:

Intermediate LEGO builder

5

5