Išsami informacija apie produktą
Išdrįsk įžengti į drakono urvą!
Prekė

70655
VIP taškai

1200
Amžiaus grupės

9-14
Dalys

1660
Savybės
Stok į kovą prieš Geležinį Baroną ir darkonų medžiotojus drauge su nindzių herojais LEGO® NINJAGO® 70655 Drakono urve su 3 atskiriamomis dalimis, kad būtų lengviau žaisti. Pakyla turi sostą Geležiniam Baronui, ginklų dėklą ir atsidarančius vartus, pro kuriuos į areną patenka žemės drakonas. Taip pat yra stebėjimo bokštelis su dviguba raketų šaudykle ant stogo, konstruojamu teleskopu ir kalve bei kalėjimas su liuku, pro kurį į areną galima įmesti minifigūrėlę. Kaukis dėl visų 4 kolekcinių drakono šarvų dalių (šiame rinkinyje jas nešioja drakono šeimininkas) su 9 minifigūrėlėmis ir įvairiais ginklais.
Su 9 LEGO® NINJAGO® minifigūrėlėmis: Drakono šeimininku, Jay, Zane, Cole, Kai, Geležiniu Baronu, Arkade, Metalistu ir Kramtuku.
Drakono urvas turi 3 atskiriamas dalis: stebėjimo pakylą, stebėjimo bokštą kalėjimą.
Stebėjimo pakyla turi arką su ratuku valdomais vartais, drakono galvos pavidalo sostą Geležiniam Baronui, ginklų dėklą su dalgiu pusmėnulio formos ašmenimis bei dekoratyvinį drakono kaulą ir permatomus liepsnos elementus.
Stebėjimo bokštas turi dvigubą smaigų šaudyklę ant stogo, konstruojamą teleskopą antrame aukšte ir kalvę su kūju bei 2 kardais. Kalėjime yra kamera su atsidarančiomis drakono kaulo durimis, pro kurias galima įmesti minifigūrėlę į drakono urvą.
Žemės drakonas turi lanksčius nasrus, kaklą, sparnus su ašmenimis, kojas, pėdas ir uodegą su kūju.
Drakono šeimininkas turi 4 Drakono šarvų elementus: drakono šalmą, drakono krūtinės šarvus, drakono kaulo kardą ir drakono skydą.
Ginklus sudaro Jay kusarigama ir katana, Zane lankas ir strėlės, Cole kūjis, Kai katana ir konstruojama katana, Geležinio Barono lazda, tanto ir kiborgo ranka, Arkade veržliaraktis ir pjūklas bei Metalisto keršto grandinės šautuvas.
Priedus sudaro Zane strėlės ir Kramtuko skydas.
Atkurk ir žaisk vaidmenimis stulbinančias scenas iš TV serialo NINJAGO® Masters of Spinjitzu.
Surask daugiau kolekcinių Drakono šarvų rinkiniuose 70650 Likimo sparnas, 70652 Stormbringer, 70653 Firstbourne ir 70654 Dieselnaut.
Drakono urvo matmenys: daugiau kaip 10 col. (27 cm) aukščio, 20 col. (51 cm) pločio ir 7 col. (20 cm) gylio.
Drakono matmenys: daugiau kaip 3 col. (9 cm) aukščio, 9 col. (25 cm) ilgio ir 11 col. (28 cm) pločio.
Konstravimo instrukcijos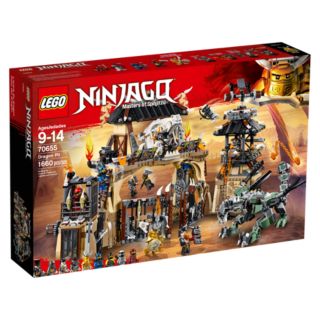 Customer Reviews
Overall Rating
Average rating5out of 5 stars
100% would recommend this product.
Rating
Overall Experience
Play Experience
Average rating5out of 5 stars
Level of Difficulty
Average rating3.5out of 5 stars
Value for Money
Average rating5out of 5 stars
Atkreipkite dėmesį, kad kartu su peržiūra pateikus naudingumo įvertinimą, jūsų IP adresas išsaugomas ir laikomas mūsų trečiosios šalies paslaugų tiekėjo. Tai atliekama todėl, kad iš vieno IP adreso nebūtų pateikiama keletas įrašų. Norėdami sužinoti, kaip valdyti savo asmeninius duomenis, žr. mūsų privatumo politiką<./a>.
Reviews
Average rating5out of 5 stars

Wonderful Build Experience, Fantastic Display

I would recommend this to a friend!

As an AFOL, the build experience and display is probably more important to me than play. That being said, this is an absolute joy to pose figures with and operate the dragon pit door! The overall set feels, dare I say, a little bit old school even? There are only a handful of features, and all incredibly well integrated and work very well. Nothing feels forced here. The focus is definitely on figures, creatures and the finished structure. The build experience is varied and interesting throughout without a heavy dependance on stickers. I particularly enjoy the small details that the designers included like the fire extinguisher and push broom to clean up after the battle! The highlight of this set, where most of the time will be spent building, is the main gate section. It has such a smooth operation and both sides open simultaneously. In addition to the wonderful gate, you have so much space to pose figures and fight or tame the Earth Dragon. It's also much appreciated compared to the smaller platform spaces that a lot of play sets like this typically have. What's great too is the option to configure the dragon pit stage in multiple ways! I think this is really a wonderful set for both younger builders and older collectors alike. This will be on display in my collection for a long while! I cannot wait to add the other sets in the series to go along with it.

Play Experience

Average rating5out of 5 stars

Level of Difficulty

Average rating3out of 5 stars

Value for Money

Average rating5out of 5 stars

Build Time:

3 hrs 30 mins

5

5

Average rating5out of 5 stars

I would recommend this to a friend!

This set is absolutely fantastic! I ordered it off of eBay all the way from England to get it early and had to pay $40 extra but it does not disappoint! All of the minifigures Kai, Cole, Jay, Zane the 4 original ninja in this set with The Master Of The Golden Dragon who I will get to in a minute. Then you get Iron Baron, the leader of The Dragon Hunters with his second in command Heavy Metal! Chew Toy and Arkade are great too but the better of the 2 is Arkade becuse this figure is exclusive and becuse the torso printings is really nice! The Master Of The Golden Dragon takes the cake though as this figure is excellent! All of the Dragon Armor on Teen Wu, just makes me want the other figure in Deislnaut even more! The set itself has a lot of features that all work great! The gate feature works great and the jail is small but is really fun to play with! Overall it's an amazing set with amazing builds!

Play Experience

Average rating5out of 5 stars

Value for Money

Average rating5out of 5 stars

Building Experience:

Advanced LEGO builder

5

5

Average rating5out of 5 stars

I would recommend this to a friend!

I managed to get this set a day early and I must say this set is great! You get 9 minifigures, the four( and Wu) that go to the dragon and the Oni realm and 4 dragon hunters. The minifigures are great, love all of them and the dragon is small, but great. The play features are great, and I love how much depth their is. I love it how much room they give you to put your minifigures on. Overall, for the money you pay, this is a great set. I would definitely recommend this set!

Play Experience

Average rating5out of 5 stars

Level of Difficulty

Average rating4out of 5 stars

Value for Money

Average rating5out of 5 stars

Build Time:

4 hrs 30 mins

Building Experience:

Advanced LEGO builder

5

5