NINJAGO®
LEGO®
Dieselnaut
Galima įsigyti dabar
Dieselnaut

5

5

4

.
Average rating5out of 5 stars
Įspėjimas!
Pavojus užspringti.
Smulkios dalys.
RASKITE DAUGIAU PANAŠIŲ PRODUKTŲ
Išsami informacija apie produktą
Atremk drakonų medžiotojų Dieselnaut tanko puolimus!
Prekė

70654
VIP taškai

900
Amžiaus grupės

9-14
Dalys

1179
Savybės
Suvienyk jėgas su nindzių kariais Paaugliu Wu, Jay ir Zane, kad įveiktum LEGO® NINJAGO® 70654 Dieselnaut tanką, kuris turi sukiojamus bokštelius su spyruoklinėmis šaudyklėmis, atsidarančią kabiną minifigūrėlėms, minifigūrėlių platformą su atsidarančiu stogu, gerve, kalėjimu ir slaptu ginklų dėklu. Šiame rinkinyje taip pat yra statulėlė su visomis 4 kolekcinėmis drakono šarvų dalimis bei 7 LEGO NINJAGO minifigūrėlės su įvairiais ginklais.
Su 7 LEGO® NINJAGO® minifigūrėlėmis: Paaugliu Wu, Jay, Zane, Geležiniu Baronu, Metalistu, Snukiu ir Galvažudžiu.
Drakonų medžiotojų Dieselnaut tankas turi atsidarančią kabiną minifigūrėlei, platformą su atsidarančiu stogu, ant kurios telpa iki 2 blogiukų, 2 sukiojamus bokštelius (kiekvienas su spyruokline šaudykle), gervę, nuimamą ir atsidarantį kalėjimą, kuriame telpa iki 3 minifigūrėlių, bei slaptavietę su nuimama, sulankstoma ginklų dėtuve ir 3 ietis, pusmėnulio formos ašmenis ir tanto.
Statula turi Drakono šarvų elementų: drakono šalmą, drakono krūtinės šarvus, drakono kaulo kardą ir drakono skydą.
Valdydamas Dieselnaut gervę sučiupk ir pakelk nindzių karius arba statulą.
Ginklus sudaro Paauglio Wu konstruojama katana, Jay kusarigama ir konstruojama katana, Zane lankas ir strėlės, Geležinio Barono lazda, tanto ir kiborgo ranka, Metalisto keršto grandinės šautuvas, Snukio ietis ir Galvažudžio dalgis.
Taip pat yra Zane strėlių elementas.
Atkurk ir žaisk vaidmenimis stulbinančias scenas iš TV serialo NINJAGO® Masters of Spinjitzu.
Surask daugiau kolekcinių Drakono šarvų rinkiniuose 70650 Likimo sparnas, 70652 Stormbringer, 70653 Firstbourne ir 70655 Drakono urvas.
Dieselnaut matmenys: daugiau kaip 7 col. (18 cm) aukščio, 19 col. (49 cm) ilgio ir 9 col. (23 cm) pločio.
Konstravimo instrukcijos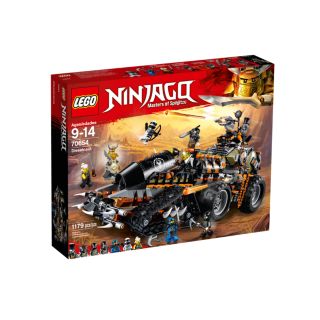 Customer Reviews
Overall Rating
Average rating5out of 5 stars
100% would recommend this product.
Rating
Overall Experience
Play Experience
Average rating5out of 5 stars
Level of Difficulty
Average rating3.7out of 5 stars
Value for Money
Average rating4.8out of 5 stars
Atkreipkite dėmesį, kad kartu su peržiūra pateikus naudingumo įvertinimą, jūsų IP adresas išsaugomas ir laikomas mūsų trečiosios šalies paslaugų tiekėjo. Tai atliekama todėl, kad iš vieno IP adreso nebūtų pateikiama keletas įrašų. Norėdami sužinoti, kaip valdyti savo asmeninius duomenis, žr. mūsų privatumo politiką<./a>.
Reviews