TLM2 tarvikud Komplekt 2019

THE LEGO® MOVIE 2™
LEGO®
TLM2 tarvikud Komplekt 2019
Praegu saadaval
TLM2 tarvikud Komplekt 2019

4.125

5

8

.
rating.prefix4.1rating.postfix
Hoiatus!
Lämbumisoht.
Väikesed osad.
OTSI VEEL SARNASEID TOOTEID
Toote üksikasjad
Kaitse LEGO® MOVIE 2™ sarja tarvikukomplekti abil Apocalypseburgi!
Toode

853865
VIP-punktid

14
Vanused

6+
Osad

48
Funktsioonid
Ehitada välismaalase sissetungijad koos THE LEGO® MOVIE 2™ 853865 tarvik seatud 2019, kus auto fort, sealhulgas stud tukk, fender ja tulede-stiilis elementide kaitsetuks. Selles pisikeses ehituskomplektis on Emmeti ja Apocalypseburgi linnaelaniku minifiguur ja kaks uut (2019. aasta veebruaris välja tulnud) torubeebit ning see sobib väga hästi täiendama teisi LEGO MOVIE 2 mängukomplekte.
Komplektis on kaks minifiguuri: Emmet ja Apocalypseburgi linnaelanik ning kaks uut (2019. aasta jaanuaris välja tulnud) torubeebit.
Komplektis on kokkupandav autotorn, mille juurde kuulub nupsukahur, porilaud ja tuleelemendid, ning oda.
Autotorni mõõdud: kõrgus ca 4 cm (1"), laius ca 6 cm (2") ja sügavus ca 5 cm (1").
Ehitusjuhised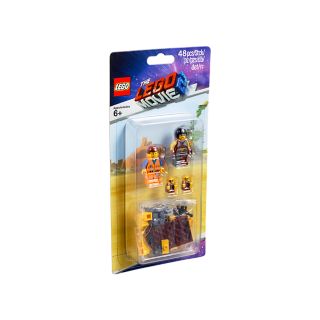 Customer Reviews
Overall Rating
rating.prefix4.1rating.postfix
100% would recommend this product.
Rating
Overall Experience
Play Experience
rating.prefix4.1rating.postfix
Level of Difficulty
rating.prefix1.8rating.postfix
Value for Money
rating.prefix3.3rating.postfix
Võtke arvesse, et arvustuse kasulikkuse hindamisel kogub ja talletab meie usaldusväärne kolmandast osapoolest teenusepakkuja teie IP-aadressi üksnes selleks, et takistada samalt IP-aadressilt mitme hinde andmist. Selleks et teada saada, kuidas isikuandmeid oma kontrolli all hoida, lugege meie privaatsuspoliitikat.
Reviews
rating.prefix5rating.postfix

I would recommend this to a friend!

THE LEGO® MOVIE 2™ accessory set #853865 comes with 48 pieces. 4 figures, Emmet, Apocalypseburg citizen, and two sewer babies. I have been wanting a set with the sewer babies ever since I first watched the trailer for The Lego Movie 2. They do not disappoint. The set has a build of the remains of a car as well as stud shooter. The citizen has the run down look with new prints on figure. Emmet has to options for his face expressions, fear and happy. Then we have the sewer babies, they have been dressed up in the latest Apocalypseburg baby wear with each having a unique face print. The new sewer babies arms and hands do not move however the head will move and come's off. The hands are molded so they can not hold anything. The babies will fit on one stud. Over all I was happy with this set with the exception of getting another Emmet figure. I think putting in another random citizen figure would have been better. With two different citizens you could have change up the figures build using the head, torso, legs etc. This would have given the set more appeal for expanding your population building in Apocalypseburg . Normally I would have bought multiple sets just so I could have made up more random citizens. With the set as it is now I only needed to buy one. I would recommend picking up this set as it will be very popular for Lego builders of all ages (6+). Happy Building Everyone.

Play Experience

rating.prefix5rating.postfix

Level of Difficulty

rating.prefix1rating.postfix

Value for Money

rating.prefix3rating.postfix

Building Experience:

Expert LEGO builder

5

5

rating.prefix5rating.postfix

I would recommend this to a friend!

I used this item as an addition to my apocalypseberg set. Looks amazing on it. Plus you get the babies. Love the set.

Play Experience

rating.prefix5rating.postfix

Level of Difficulty

rating.prefix2rating.postfix

Value for Money

rating.prefix5rating.postfix

Building Experience:

Novice LEGO builder

5

5

rating.prefix3rating.postfix

sewer babies...and another emmet

I would recommend this to a friend!

pretty basic set: sewer babies, citizen, and emmet. along with the front end of an early '90's taxi. the sewer babies are a great addition for an apocalypsberg accessory set, since we've never had them in a set before. the random citizen is a great addition as well, since random minifigures are always great for a city scene (even a half destroyed city) emmet...really? we currently have 11 sets with emmet, as well as a collectible minifigure of emmet, as well as a polybag with emmet, and a pod with emmet. ah, heck...we also have a keychain with emmet. the spot in this accessory kit would have been better served with another random citizen, a 3rd sewer baby, or even another apocalypse cat variation for Sherry Scratchen-Post. accessory kits like this should be reserved for the more limited minifigures in order to build up scenes. um...please.

Play Experience

rating.prefix3rating.postfix

Value for Money

rating.prefix3rating.postfix

Building Experience:

Intermediate LEGO builder

3

5

rating.prefix3rating.postfix

I would recommend this to a friend!

Again, LEGO gets it ALMOST right...and then drops the ball. The "accessory packs" (formally "battle packs") should ONLY be for 'non-special character' minifigures, etc. There is ZERO incentive to buy more of them to bulk up your build (such as Apocalypseburg) when you will just get more and more...AND MORE of a special character...in this case, yet ANOTHER Emmet figure. We already have more Emmet figs than we can shake a stick at, so why on Earth would LEGO feel compelled to include YET ANOTHER in THIS set? I would have MUCH preferred another citizen of Apocalypseburg, or two more sewer babies. In my opinion, putting Emmet in this set was a completely wasted opportunity, just like so many other 'accessory packs' that came before. Many of the 'Castle' and 'Nexo Knights' accessory packs did it right, whereas others (POTC, Pirates, Ninjago) crashed and burned due to the inclusion of 'special characters'. Hopefully one day LEGO will get it right. Until then, enjoy the sewer babies!

Play Experience

rating.prefix5rating.postfix

Value for Money

rating.prefix3rating.postfix

Building Experience:

Advanced LEGO builder

3

5