Minifiguurid
LEGO®
THE LEGO® MOVIE 2
Praegu saadaval
THE LEGO® MOVIE 2

4.2941

5

17

.
rating.prefix4.3rating.postfix
Limit 42
Limit
Piirame ühele leibkonnale saadaolevat ostulimiiti, et tagada kõigile fännidele õiglane kohtlemine. Kui oled eelmiste tellimuste kaudu selle limiidini jõudnud, võidakse sinu tellimus tühistada.
Hoiatus!
Lämbumisoht.
Väikesed osad.
OTSI VEEL SARNASEID TOOTEID
Toote üksikasjad
Avasta ja kogu kokku oma lemmiktegelased filmist THE LEGO® MOVIE 2!
Toode

71023
VIP-punktid

3

VIP-punktid

Kuvatud VIP-punktide väärtus on hinnanguline ja tegelikud punktid arvutatakse maksmisel.
Vanused

5+
Osad

7
Funktsioonid
Loo oma hirmnaljakad THE LEGO® MOVIE 2 stseenid LEGO minifiguuridega 71023 THE LEGO MOVIE 2 kollektsioonist. See 2019. aasta veebruari uus tootesari sisaldab eksklusiivseid piiratud koguses tegelasi, kellel on mitmesugused põnevad tarvikud ja lahedad kostüümid. Uhiuue THE LEGO MOVIE 2 seiklused aitavad elavaks muuta võimas Remix Emmet, lahinguvalmis Lucy, apokalüpsise-Benny, kaelkirjakukutt, kriiditüdruk, Sherry Scratchen-Post ja Scarfield, Hula Lula, arbuusikutt, meenutaja-Lucy, soo-olend, kommiräppar, golfi mängima läinud President Äri, Apocalypseburg Abe, vestisõber Rex, Kitty Pop, Dorothy Gale ja Toto, argpükslik lõvi, hernehirmutis, plekkmees ja Ükskiisu! Iga kogutava minifiguuriga on saladuslikus kinnises kotikeses kaasas üks või mitu lisatarvikut, samuti kollektsionääridele mõeldud voldik ja väljapanekualus.
Iga selle sarja kogutava LEGO® minifiguuriga on kaasas üks või mitu lisaeset, samuti kollektsionääridele mõeldud voldik ja kordumatu alusplaat.
20 piiratud koguses LEGO® minifiguuridest tegelast filmist THE LEGO MOVIE 2, millega saad läbi mängida põnevad stseenid!
Sisaldab 2019. aasta veebruari uusi kostüüme ja tarvikuid, sealhulgas Emmeti kõrvaklappidega parukas, Lucy kapuuts ja President Äri golfikepp, lisaks apokalüpsisekass, Abraham Lincolni peakate, Rexi kaabu/parukas, arbuusikostüüm, kaelkirjakukostüüm, Dorothy peaehe, plekkmehe müts, hernehirmutise müts ja argpüksist lõvi lakk.
Kombineeri THE LEGO® MOVIE 2 minifiguurid LEGO ehituskomplektidega, nii on mänguvõimalusi lõputult.
Vaheta minifiguure ka sõpradega, et oma kollektsiooni täiustada.
MÄRKUS. Iga saladuslik kott sisaldab ühte selle kollektsiooni 20-st THE LEGO® MOVIE 2 tegelasest. Kahjuks ei saa me pakkuda soovijatele konkreetseid minifiguure. Kui ostad mitu saladuslikku kotti, võid saada mitu identset minifiguuri.
Ehitusjuhised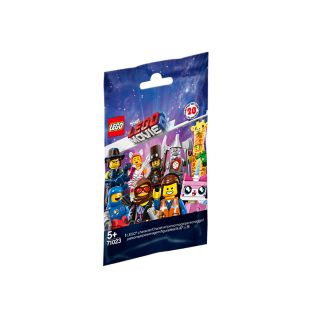 Customer Reviews
Overall Rating
rating.prefix4.3rating.postfix
88% would recommend this product.
Rating
Overall Experience
Play Experience
rating.prefix4.5rating.postfix
Level of Difficulty
rating.prefix1.3rating.postfix
Value for Money
rating.prefix3.8rating.postfix
Võtke arvesse, et arvustuse kasulikkuse hindamisel kogub ja talletab meie usaldusväärne kolmandast osapoolest teenusepakkuja teie IP-aadressi üksnes selleks, et takistada samalt IP-aadressilt mitme hinde andmist. Selleks et teada saada, kuidas isikuandmeid oma kontrolli all hoida, lugege meie privaatsuspoliitikat.
Reviews