Toote üksikasjad
Kavanda missioone Sõpruse majas!
Toode

41340
VIP-punktid

600
Vanused

6-12
Osad

722
Funktsioonid
LEGO® Friendsi Sõpruse maja (41340) on kõige parem koht, kus Heartlake'i linnast pärit sõbrad saavad erilisi hetki veeta – suunduda uutele seiklustele või nautida puhkeaega. Selle populaarse laste mänguasja komplekti kuuluvad köök, ehituslauaga elutuba, kahepoolse teleriekraaniga magamistuba, kõlaritega terrass, grill, mullivann, mahlabaar ja katusel asuv vaatlustorn. Õues on olemas kiik, jalgratas koos tööriistu täis järelhaagisega ning palju lahedaid detaile ümberehitatud tuletõrjedepoos, sealhulgas töötav tõstuk, alarm, post, liumägi ning avatava uksega garaaž. Komplektis on kolm mininukku ja kolm loomafiguuri.
Komplektis on Olivia, Emma ja Andrea mininukud, lisaks koer Dashi, hamster Rumble'i ja jänku Cinnamoni figuurid.
Sisaldab neljakorruselist ümberehitatud tuletõrjedepood, kus on garaaž, köök, elutoaala, magamistuba, katuseterrass, esinemisteks mõeldud terrass, grilliga külgrõdu, töötav tõstukisüsteem, postkast, pöörlev tuletõrjepost ja liumägi, lisaks kiigega sõprusepuu ning järelhaagisega jalgratas.
Garaažis on hamstriratas ja torusüsteem.
Köögis on külmkapp, mikrolaineahi, kraanikauss, pliit ja köögilaud.
Elutoas on ehituslaud koos viie tooli ja lahtikäivate kappidega.
Magamistoas on viis voodit ning kahepoolne teleri- ja salamissiooniekraan.
Katuseterrassil on mullivann, mahlabaar, muusikadokk ning redeli ja teleskoobiga vaatlustorn.
Tarvikuelementide hulka kuuluvad kaks raadiosaatjat, tööriistad, kitarr, popkorn, pitsa, teekann, pesuvedeliku pudel, käsitöökarp, käärid, kunstitöödega plaadid, viis riidest tekki, MP3-mängija, kokteiliklaasid ja porgand.
Veeda koos Heartlake'i linnast pärit tüdrukutega mõnusalt aega Sõpruse majas ning kuula mullivannis muusikat, tegele koos Emmaga käsitööga või toeta Andreat tema muusikalise etteaste ajal selle populaarse laste mänguasja abil.
Kasuta töötavat tõstukit, et tõsta majja tarvikuid.
Asu missiooni saabudes tegutsema, keeruta magamistoas olevat telerit, et näha salamissiooniekraani, ning mõtle välja plaan olukorra päästmiseks!
Liugle tuletõrjepostist alla, hüppa ratta selga ja kihuta Olivia tööriistu täis järelhaagisega minema.
Vaata, kuidas hamster oma rattas ringi jookseb, kiiguta koera sõprusepuu all asuval kiigel ning toida jänkut mahlase porgandi abil.
Sõpruse maja mõõtmed: kõrgus 30 cm, laius 24 cm ja sügavus 12 cm.
Sõprusepuu mõõtmed: kõrgus 10 cm, laius 19 cm ja sügavus 3 cm.
Järelhaagisega jalgratta mõõtmed: pikkus 10 cm, laius 4 cm ja kõrgus 1 cm.
Pargi Olivia missioonisõiduk (41330) garaaži ning pane see valmis veelgi kiiremateks päästemissioonideks!
Ehitusjuhised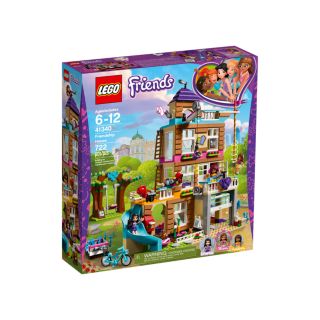 Customer Reviews
Overall Rating
Average rating4.2out of 5 stars
81% would recommend this product.
Rating
Overall Experience
Play Experience
Average rating4.1out of 5 stars
Level of Difficulty
Average rating2.9out of 5 stars
Value for Money
Average rating4out of 5 stars
Võtke arvesse, et arvustuse kasulikkuse hindamisel kogub ja talletab meie usaldusväärne kolmandast osapoolest teenusepakkuja teie IP-aadressi üksnes selleks, et takistada samalt IP-aadressilt mitme hinde andmist. Selleks et teada saada, kuidas isikuandmeid oma kontrolli all hoida, lugege meie privaatsuspoliitikat.
Reviews