NINJAGO®
LEGO®
S.O.G. peakorter
Vana toode
S.O.G. peakorter

3.6667

5

3

.
rating.prefix3.7rating.postfix
Hoiatus!
Lämbumisoht.
Väikesed osad.
OTSI VEEL SARNASEID TOOTEID
Toote üksikasjad
Ründa Garmadoni poegade põrandaalust dojot Spinjitzu stiilis!
Toode

70640
Vanused

8-14
Osad

530
Funktsioonid
Põruta LEGO® NINJAGO® 70640 S.O.G. peakorterisse koos Lloydi Spinjitzu spinneriga ja võitle Oni vihamaski eest. Dojos on pöörlevad relvad, liikuvad küljed ja Oni-ratas spinneri ründamiseks. Löö spinneriga oma rivaale ja tungi dojosse ning vabasta Oni vihamask. Selle ehitusmänguasja juurde kuulub ka 5 minifiguuri (sh Zane Maojaaguarina).
Komplektis on 5 minifiguuri: Lloyd, Maojaaguar, Ultra Violet, Nails ja Tige Skip.
S.O.G. Peakorteril on liigutatavad küljed tegevust täis mänguks, plahvatav sissepääs Oni-vihamaski ja rambiga, pöörlev tera, pöörlev ratas, millel on kinnitus minifiguurile, pöörlevad vasarad, pangaautomaat, silt "Garmadoni pojad" ja Oni-ratta töökoda.
Spinjitzu spinneril on LEGO® klotsidest ehitatav käepide, pöörlev element, milles on kapsel minifiguurile ja nöör.
Aseta minifiguur kapslisse, kinnita spinner ja tõmba nöörist, et see pöörlema või veerema panna.
Spinneri ründamiseks haara käepidemetest dojo külgedel.
Tungi spinneri abil dojosse ja vabasta Oni vihamask.
Kinnita Oni vihamask Ultra Violeti minifiguuri külge ja muuda ta veelgi kurjemaks!
Relvadeks on Lloydi visketähed, Maojaaguari 2 katanat, Ultra Violeti 2 keskaegset mõõka, Nailsi katana ja Tigeda Skipi katana ning sõrgkang.
Maojaaguari minifiguur on jaanuari 2018 uus toode.
Loo ja mängi läbi suurejoonelised stseenid NINJAGO® telesarjast "Masters of Spinjitzu".
S.O.G. Peakorteri mõõtmed: kõrgus 13 cm (5"), laius 32 cm (12"), sügavus 21 cm (8"). Laius täielikult avatuna 71 cm (27").
Oni-ratta mõõtmed: kõrgus 4 cm (1"), pikkus 12 cm (4"), laius 3 cm (1").
Spinjitzu spinneri mõõtmed (ilma nöörita): kõrgus 14 cm (5"), laius 8 cm (3"), sügavus 3 cm (1").
Ehitusjuhised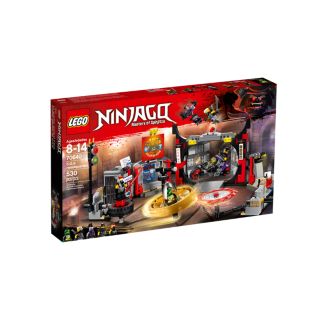 Customer Reviews
Overall Rating
rating.prefix3.7rating.postfix
67% would recommend this product.
Rating
Overall Experience
Play Experience
rating.prefix4.3rating.postfix
Level of Difficulty
rating.prefix2rating.postfix
Value for Money
rating.prefix3.7rating.postfix
Võtke arvesse, et arvustuse kasulikkuse hindamisel kogub ja talletab meie usaldusväärne kolmandast osapoolest teenusepakkuja teie IP-aadressi üksnes selleks, et takistada samalt IP-aadressilt mitme hinde andmist. Selleks et teada saada, kuidas isikuandmeid oma kontrolli all hoida, lugege meie privaatsuspoliitikat.
Reviews
rating.prefix1rating.postfix

Weakest Ninjago Set, perhaps ever

This is probably the worst Ninjago set I've ever purchased. It's a very weak build and the minifigures don't justify the price. I got it for $30 at Target, which is $10 cheaper than it's retail, and I still feel like I paid too much. The problem is that the set is just a gimmick for the ninja spinners. That in itself is fine. There are other sets that have incorporated the spinning gimmick, but have still been an excellent build. The best example I can give you of that is the Ronin R.E.X. set The entire set is built around the idea that you have your spinjitzu ninja "duel" with a spinning saw blade The end result is that the S.O.G HQ set will take up way too much space on the shelf, but will look very sparse and uninteresting. There are only two pluses I will give to this set. 1. It comes with a different kind of bike. and 2. It comes with "Snake Jaguar" Zane...and he is exclusive to this set. But those alone doesn't justify the purchasing this set. Nothing else here is special. Not even the Oni Mask. You can get it in the far better Ninja Nightcrawler set, or better yet, the superior Temple of Resurrection set (and get all the masks!) Seriously. Do not bother with this set. Spring for the Temple of Resurrection instead. It's what I'm wishing I had done

Play Experience

rating.prefix3rating.postfix

Value for Money

rating.prefix1rating.postfix

Building Experience:

Expert LEGO builder

1

5

rating.prefix5rating.postfix

Great set, interesting build and fun to play with

I would recommend this to a friend!

This is a really fun set. It's one of those sets that looks even better when it's all put together - I wasn't so sure it was good value for money when I saw the pictures on the box but when it's all built it's definitely worth the money. There are some really good minifigs in the set, the door construction is interesting and the little bike is a great build - it's only a small bike but it's been cleverly designed and looks really good. My boys are fighting over it and wish that more of the sets in this range had those bikes for the baddies to ride! The completed set itself has got a lot of playability, and there are lots of nice little details in the scene that add to this.

Play Experience

rating.prefix5rating.postfix

Level of Difficulty

rating.prefix2rating.postfix

Value for Money

rating.prefix5rating.postfix

Building Experience:

Intermediate LEGO builder

5

5

rating.prefix5rating.postfix

Great playability for 2 or more

I would recommend this to a friend!

Grab another spinner and have a blast! I grabbed a big Costco pallet size cardboard tray and my two kiddos battled for hours over a few weeks. I jumped in too and it is a great set you can really play with.

Play Experience

rating.prefix5rating.postfix

Value for Money

rating.prefix5rating.postfix

Building Experience:

Intermediate LEGO builder

5

5