Creator Expert
LEGO®
Pariisi restoran
Praegu saadaval
Pariisi restoran

4.9034

5

238

.
Average rating4.9out of 5 stars
Hoiatus!
Lämbumisoht.
Väikesed osad.
OTSI VEEL SARNASEID TOOTEID
Toote üksikasjad
Veeda unustamatu õhtu imelises Pariisi restoranis!
Toode

10243
VIP-punktid

1350
Vanused

16+
Osad

2469
Funktsioonid
Pariisi restoranis käib vilgas askeldamine. Roller põristab mööda, sees jookseb kelner laudade vahel ning noormehel on närv sees, kui ta valmistub, sõrmus peos, tütarlapse kätt paluma. Ka köögipoolel tegutsetakse sama elavat ja kokk on toidu valmistamisega hõivatud. Kaunis ja detailirohkes hoones sünnib palju lugusid ning see sobib suurepäraselt moodulhoonete sarja. Pariisi restoranis on täisvarustuses sinisevalgekirjute plaatidega köök koos lauanõudega ning mugav korter lahtikäiva voodi, kööginurga ja kaminaga. Ülakorrusel kunstniku stuudioga toas on malmahi, molbert, pintsel ja ambitsioonika kunstniku kaks maali. Väljas viivad trepid laternate ja lilledega kaunistatud katuseterrassile, kus külastajad saavad einestada värskes õhus. Sel hämmastaval Pariisi restorani mudelil on ka sarvesaiade, merekarpide ja sulekaunistustega fassaad, mis annab edasi Pariisi õhustikku. Komplektis on viis minifiguuri: kokk, kelner, tüdruk ja armastajapaar.
Komplektis on viis minifiguuri: kokk, kelner, tüdruk ja armastajapaar
Samuti on komplektis rott ja kaks merekarpi
Köögis on siniste ja valgete plaatidega põrand, palju köögitehnikat ja -nõusid
Teisel korrusel asuvas korteris on kokkupandav voodi, kööginurk ja kamin
Ülemisel korrusel on avatav katus, mille all on kunstniku stuudio ahju, molberti, pintsli, paleti ja maalidega
Komplektis on palju toiduaineid klientidele, sh croissant'id, pirukas, kaks muffinit, kaks viinamarja, kaks hot dog'i, kalkun, juustulõigud, piimapakk ja värvilised pudelid
Samuti on komplektis haruldased valged croissant'id ning oliivirohelised, tumesinised ja tumepunased klotsid
Keerukas väliskujundus hõlmab croissant'idega kaunistatud fassaadi, bussipeatust, kõnniteed, motorollerit ja restorani taga isegi prügikonteinerit ja prügikasti
Püstita klientide meelitamiseks trükitud restoranisilt ja menüü
Kogu kokku ja ehita LEGO® Modular Buildings kollektsioonist linn: 10224 raekoda ja 10232 Palace Cinema!
Mõõtmed: kõrgus 30 cm (11 tolli), pikkus 25 cm (9 tolli), laius 25 cm (9 tolli)
Ehitusjuhised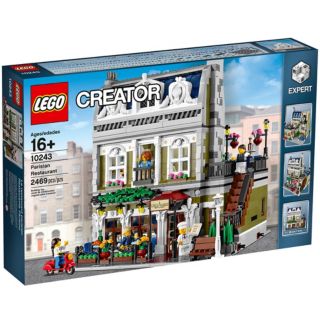 Customer Reviews
Overall Rating
Average rating4.9out of 5 stars
98% would recommend this product.
Rating
Overall Experience
Play Experience
Average rating4.7out of 5 stars
Level of Difficulty
Average rating3.7out of 5 stars
Value for Money
Average rating4.7out of 5 stars
Võtke arvesse, et arvustuse kasulikkuse hindamisel kogub ja talletab meie usaldusväärne kolmandast osapoolest teenusepakkuja teie IP-aadressi üksnes selleks, et takistada samalt IP-aadressilt mitme hinde andmist. Selleks et teada saada, kuidas isikuandmeid oma kontrolli all hoida, lugege meie privaatsuspoliitikat.
Reviews