NINJAGO®
LEGO®
NINJAGO® tarvikud Komplekt 2019
Praegu saadaval
NINJAGO® tarvikud Komplekt 2019

4.6667

5

3

.
rating.prefix4.7rating.postfix
Hoiatus!
Lämbumisoht.
Väikesed osad.
OTSI VEEL SARNASEID TOOTEID
Toote üksikasjad
Relvasta Oni kurikaelad selle laheda tarvikukomplektiga!
Toode

853866
VIP-punktid

14
Vanused

6+
Osad

36
Funktsioonid
Valmistu lahinguks LEGO® NINJAGO® 2019. a tarvikukomplektiga (853866), mis sisaldab Oni kurikaelu NINJAGO telesarja "Masters of Spinjitzu" 10. hooajast. Selles väikses põnevas komplektis on kolm uut, 2019. a jaanuaris ilmuvat Oni minifiguuri (üks neist on kuulsa sarvega) ja erinevad relvad.
Sisaldab kolme Oni deemoni minifiguuri (üks neist on sarvega), nelja mõõka ja muid relvi.
Ehitusjuhised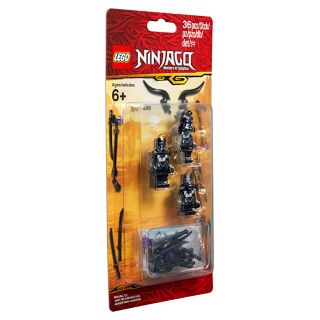 Customer Reviews
Overall Rating
rating.prefix4.7rating.postfix
100% would recommend this product.
Rating
Overall Experience
Play Experience
rating.prefix4.5rating.postfix
Level of Difficulty
rating.prefix1rating.postfix
Value for Money
rating.prefix4rating.postfix
Võtke arvesse, et arvustuse kasulikkuse hindamisel kogub ja talletab meie usaldusväärne kolmandast osapoolest teenusepakkuja teie IP-aadressi üksnes selleks, et takistada samalt IP-aadressilt mitme hinde andmist. Selleks et teada saada, kuidas isikuandmeid oma kontrolli all hoida, lugege meie privaatsuspoliitikat.
Reviews
rating.prefix5rating.postfix

I would recommend this to a friend!

I purchased three of this set and I do NOT regret it! The minifies look great and are awesome to build armies! If you are just considering getting this set then just go ahead and get it because you will regret not getting it when it retires!

Play Experience

rating.prefix5rating.postfix

Level of Difficulty

rating.prefix1rating.postfix

Value for Money

rating.prefix3rating.postfix

Building Experience:

Advanced LEGO builder

5

5

rating.prefix5rating.postfix

I would recommend this to a friend!

I love these minifig booster packs. They add a little diversity to and extend my collection.

Level of Difficulty

rating.prefix1rating.postfix

Value for Money

rating.prefix4rating.postfix

Building Experience:

Advanced LEGO builder

5

5

rating.prefix4rating.postfix

I would recommend this to a friend!

This minifigure pack is from the new 4-episode special for the Ninjago tv show. These are the main villains from the special, and this is the only way to get them. This pack is definitely a great way to build your Oni-Army. You get 2 normal Oni warriors, and the Omega Oni. You definitely get some awesome minifigures for your money, however, there is kind of a minor flaw. These figures lack leg printing that could enhance the minifigures so much, but it isn't that big of a deal, these minifigures are still amazing. These figures are all basically the same, just with small changes too, so keep that in mind. The play value may be limited, since this is a pack of 3 similar villains, but it helps if you get a set with them, even if it's just a spinjitzu spinner, a hero character would suffice to fight against the oni in play. This is also the only set for the March of the Oni special, which is perfectly fine, this pack is all we need, however, it would probably help if this were a wider release.

Play Experience

rating.prefix4rating.postfix

Level of Difficulty

rating.prefix1rating.postfix

Value for Money

rating.prefix5rating.postfix

Building Experience:

Advanced LEGO builder

4

5