LEGO® SERIOUS PLAY® Identity and Landscape Kit

SERIOUS PLAY®
LEGO®
LEGO® SERIOUS PLAY® Identity and Landscape Kit
Praegu saadaval
LEGO® SERIOUS PLAY® Identity and Landscape Kit

4.5714

5

7

.
rating.prefix4.6rating.postfix
Hoiatus!
Lämbumisoht.
Väikesed osad.
OTSI VEEL SARNASEID TOOTEID
Toote üksikasjad
Tõhusamad õpitoad LEGO® SERIOUS PLAY® programmiga!
Toode

2000430
VIP-punktid

699
Vanused

6+
Osad

2631
Funktsioonid
Komplektis mitmekesine valik LEGO® ja LEGO DUPLO® elemente, suur valik alusplaate ja 3 oranži plastikust sorteerimisalust.
Elemendikomplektis on DUPLO loomad, LEGO rattad, rehvid, aknad, puud, minifiguuriosad, pulgad, kerad, spiraaltorud, redelid ja aiad.
Sobib 10-12 osalejaga ja 1-2 päeva kestva koolituse jaoks
Mõeldud kasutamiseks LEGO SERIOUS PLAY® meetodi rakendamistehnikatega 2, 3 ja 4.
Laske kõigil ehitajatel kombineerida komplektiga "2000414 Starter Kit".
Ehitusjuhised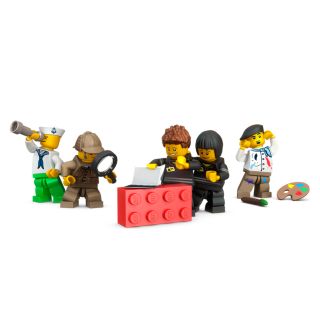 Customer Reviews
Overall Rating
rating.prefix4.6rating.postfix
71% would recommend this product.
Rating
Overall Experience
Play Experience
rating.prefix4.7rating.postfix
Level of Difficulty
rating.prefix2rating.postfix
Value for Money
rating.prefix3.6rating.postfix
Võtke arvesse, et arvustuse kasulikkuse hindamisel kogub ja talletab meie usaldusväärne kolmandast osapoolest teenusepakkuja teie IP-aadressi üksnes selleks, et takistada samalt IP-aadressilt mitme hinde andmist. Selleks et teada saada, kuidas isikuandmeid oma kontrolli all hoida, lugege meie privaatsuspoliitikat.
Reviews