NINJAGO®
LEGO®
LEGO NINJAGO tarvikute komplekt
Price
14,99 €
10,49 €

Sale price
Ajutiselt otsas
LEGO NINJAGO tarvikute komplekt

4.4

5

5

.
rating.prefix4.4rating.postfix
Hoiatus!
Lämbumisoht.
Väikesed osad.
OTSI VEEL SARNASEID TOOTEID
Toote üksikasjad
Sea end valmis põnevateks NINJAGO® lahinguteks!
Toode

853544
VIP-punktid

10
Vanused

6+
Osad

36
Funktsioonid
Hangi see vinge LEGO NINJAGO® tarvikukomplekt ja ühenda jõud Tournament Zanei ja Samurai X-iga, et astuda vastu taevapiraatide jalaväelastele. See on suurpärane kingitus LEGO NINJAGO ehituskomplektide fännidele. Kompletis on 4 minifiguuri ning valik lahedaid relvi ja tarvikuid, millega eepilisi lahinguid maha pidada.
Komplektis neli minifiguuri erinevate relvade ja tarvikuelementidega: Tournament Zane, Samurai X ja kaks taevapiraatide jalaväelast.
Relvakomplekti kuulub Samurai X-i kuldne visketäht ja samuraioda, Zane'i kuldne visketäht ja jääsau, taevapiraatide suur piraadimõõk, kaks väiksemat piraadimõõka ja püstol.
Komplektis ka taevapiraatide tõrvikute tarvikud.
Taaselusta NINJAGO® eepilised lahingustseenid: telesarjast "Masters of Spinjitzu".
Suurepärane kingitus LEGO® NINJAGO® ehituskomplektide fännidele.
Selles komplektis on enam kui 35 osa ning see sobib mängimiseks lastele alates 6. elusaastast.
Ehitusjuhised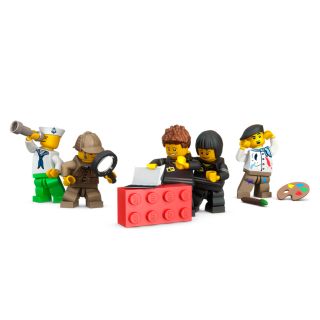 Customer Reviews
Overall Rating
rating.prefix4.4rating.postfix
100% would recommend this product.
Rating
Overall Experience
Play Experience
rating.prefix4.2rating.postfix
Level of Difficulty
rating.prefix1.4rating.postfix
Value for Money
rating.prefix3.6rating.postfix
Võtke arvesse, et arvustuse kasulikkuse hindamisel kogub ja talletab meie usaldusväärne kolmandast osapoolest teenusepakkuja teie IP-aadressi üksnes selleks, et takistada samalt IP-aadressilt mitme hinde andmist. Selleks et teada saada, kuidas isikuandmeid oma kontrolli all hoida, lugege meie privaatsuspoliitikat.
Reviews