Hagridi onn: Helliknoka päästmine

Harry Potter™
LEGO®
Hagridi onn: Helliknoka päästmine
Praegu saadaval
Hagridi onn: Helliknoka päästmine

4.75

5

4

.
Average rating4.8out of 5 stars
Hoiatus!
Lämbumisoht.
Väikesed osad.
OTSI VEEL SARNASEID TOOTEID
Toote üksikasjad
Visiit Hagridi onni lõpeb kangelasliku Hippogriffi päästmise missiooniga!
Toode

75947
VIP-punktid

525
Vanused

8+
Osad

496
Funktsioonid
Lase noortel nõidadel ja võluritel taaselustada filmist "Harry Potter™ ja Azkaban™-i vang" tuntud maagilisi stseene vahva komplektiga "LEGO® Harry Potter 75947 Hagridi onn: Helliknoka päästmine". See lahe mängukomplekt pakub Harry Potteri fännidele lõputult põnevaid mänguvõimalusi (sobib alates 8. eluaastast). Nad saavad uurida Hagridi onni detailiküllast sisemust, peituda võlukunstiministri eest Hagridi kõrvitsapeenarde vahele ja päästa Helliknokk Hippogriffil põgeneda timuka kirvehoopide eest. Selle LEGO Harry Potteri komplektiga ei lõppe põnevad ja maagilised seiklused kunagi. Komplektis on kuus minifiguuri, kokkupandav liikuvate tiibade ja liikuva peaga Helliknoka figuur ning mitesugused tarvikud ja mehhanismid, sh nupuga juhitav valgusklots kamina jaoks.
Komplektis on kuus LEGO® Harry Potter™-i sarja minifiguuri: Hagrid™ ja uus (juuni 2019) Harry Potter, Ron Weasley™, Hermione Granger™, timukas ja võlukunstiminister ning lisaks Helliknokk Hippogriffi figuur, millel on liigutatavad tiivad ja liikuv pea ning eemaldatav kett.
See Harry Potter™-i teemalises LEGO® komplektis on Hagridi kahe sektsiooniga (kokkupandav) onn ning kõrvitsapeenramoodul
LEGO® Hagridi onni tööruumis on laud ja tool, küünal, laegas, šokolaadikonn, ajaleht "Daily Prophet" ja ämblik.
LEGO® Hagridi onni pearuumis on laud kahe tooliga, kokkupandav tugitool, valgusklotsiga korstnadetail, kauss munaga, kott, kapp, Hagridi roosa vihmavari, kühvel, teekann, lusikas, pann, lihunikukirves, lasso, hari ja ämber.
Komplektis on ka kõrvitsaelemendid, latern, kirves, kolm võlukeppi, võlukunstiministri müts ja eemaldatav kett Helliknoka jaoks.
LEGO® Hagridi onni mõõdud: kõrgus ca 16 cm (6"), laius ca 23 cm (9") ja sügavus ca 12 cm (4").
Buckbeak™-i figuuri mõõdud (avatud tiibadega): kõrgus ca 5 cm (1"), pikkus ca 7 cm (2") ja laius ca 12 cm (4").
Ehitusjuhised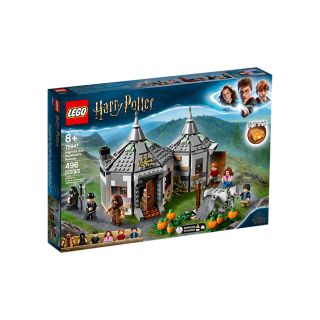 Customer Reviews
Overall Rating
Average rating4.8out of 5 stars
100% would recommend this product.
Rating
Overall Experience
Play Experience
Average rating4.7out of 5 stars
Level of Difficulty
Average rating2out of 5 stars
Value for Money
Average rating4out of 5 stars
Võtke arvesse, et arvustuse kasulikkuse hindamisel kogub ja talletab meie usaldusväärne kolmandast osapoolest teenusepakkuja teie IP-aadressi üksnes selleks, et takistada samalt IP-aadressilt mitme hinde andmist. Selleks et teada saada, kuidas isikuandmeid oma kontrolli all hoida, lugege meie privaatsuspoliitikat.
Reviews