Emmeti unistuste maja / päästerakett!

THE LEGO® MOVIE 2™
LEGO®
Emmeti unistuste maja / päästerakett!
Praegu saadaval
Emmeti unistuste maja / päästerakett!

4.7778

5

9

.
rating.prefix4.8rating.postfix
Hoiatus!
Lämbumisoht.
Väikesed osad.
OTSI VEEL SARNASEID TOOTEID
Toote üksikasjad
Ehita Emmeti kaks ühes rakett-maja!
Toode

70831
VIP-punktid

69
Vanused

8+
Osad

706
Funktsioonid
Näita, et oled meisterehitaja komplektiga THE LEGO® MOVIE 2™ 70831 Emmeti unistuste maja / päästerakett! Selles kaks ühes ehitusmänguasjas on Emmeti kodu, mille saab ümberehitada raketiks. Maja on lihtne avada, et seal sees mängida ning tal on üksikasjalikult kujundatud elutuba/köök ja pööning. Eemalda katus ja kasuta veetorni ning barrikaadi osi, et luua vedrukahurite ja reguleeritavate mootoritega rakett. Selles lõbusas ehitusmänguasja komplektis on kolm minifiguuri, lisaks kokkupandavad Planty ja Ükskiisu Sõdalaskiisuna figuurid koos relvade ja tarvikutega rollimänguks LEGO MOVIE 2 alusel.
Komplektis on viis THE LEGO® MOVIE 2™ tegelaskuju: LEGO Emmeti, Lucy ja Rex Ohutusvesti minifiguur, lisaks Emmeti sõber Planty (klotsidest) ja kokkupandav Ükskiisu Sõdalaskiisuna figuur kahe erineva näoilmega.
Selle kaks ühes Emmeti unistuste maja komplekti saab ümberehitada päästeraketiks, kasutades kokkupandavaid osi barrikaadist ja veetornist koos töökojaga.
Emmeti unistuste maja avaneb lihtsalt, et seal sees mängida ning komplekti kuulub avanev välisuks, elutuba/köök kokkupandava köögiosaga, diivan, söögilaud, kütteseade ja Sõdalaskiisu kraapimispuu, lisaks tarvikuelemendid, nagu taldrik, kohvitass, pann, raadio, binokkel, akordion, lennuliikluse kontrolltuled, pööning, eemaldatav katus, mille saab muuta raketiks, kokkupandav aed, tünn ja lill.
Päästeraketil on kaks vedrukahurit ja reguleeritavad mootorid.
Komplektis on ka kokkupandav barrikaad ja veetorn koos töökojaga.
Relvadest on komplektis Lucy amb ja Sõdalaskiisu harpuun
Tarvikuelementide hulgas on Lucy nooletupp ja Rex Ohutusvesti kiiver.
Emmeti, Lucy ja Rexi minifiguurid on uued alates 2019.a jaanuarist.
Lavasta lõbusaid stseene laheda THE LEGO® MOVIE 2™ loomingulise mänguasjaga.
Unistuste maja mõõtmed: kõrgus 14 cm, laius 13 cm ja sügavus 13 cm.
Mänguraketi mõõtmed: kõrgus 15 cm, pikkus 20 cm ja laius 18 cm.
Veetorni mõõtmed: kõrgus 15 cm, laius 17 cm ja sügavus 7 cm.
Barrikaadi mõõtmed: kõrgus 3 cm, laius 16 cm ja sügavus 6 cm.
Ehitusjuhised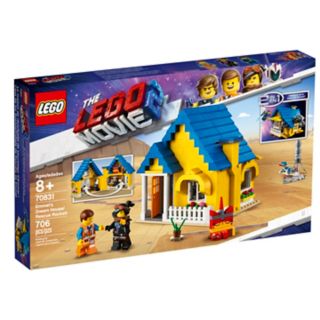 Customer Reviews
Overall Rating
rating.prefix4.8rating.postfix
100% would recommend this product.
Rating
Overall Experience
Play Experience
rating.prefix4.8rating.postfix
Level of Difficulty
rating.prefix3.1rating.postfix
Value for Money
rating.prefix4.1rating.postfix
Võtke arvesse, et arvustuse kasulikkuse hindamisel kogub ja talletab meie usaldusväärne kolmandast osapoolest teenusepakkuja teie IP-aadressi üksnes selleks, et takistada samalt IP-aadressilt mitme hinde andmist. Selleks et teada saada, kuidas isikuandmeid oma kontrolli all hoida, lugege meie privaatsuspoliitikat.
Reviews