Creator Expert
LEGO®
Big Ben
Vana toode
Big Ben

4.6216

5

74

.
Average rating4.6out of 5 stars
Hoiatus!
Lämbumisoht.
Väikesed osad.
OTSI VEEL SARNASEID TOOTEID
Toote üksikasjad
Ehita oma kätega maailma tuntuim kellatorn!
Toode

10253
Vanused

16+
Osad

4163
Funktsioonid
Tutvu lähemalt Big Beniga! Big Beni kell pandi käima 1859. aasta 31. mail ja selle esimene kellamäng kostis 96-meetrise Elizabeth Toweri otsast sama aasta 11. juulil. LEGO® 60 cm kõrgune tõlgendus on austusavaldus kuulsa konstruktsiooni projekteerimisele ja arhitektuurile. Sellel on kujude, kilpide ja akendega üksikasjalik fassaad, nelja kohandatava numbrilauaga kellatorn, eemaldatav katus, mis võimaldab ligipääsu kellaruumi, ning ehitatavad välised elemendid, sh kõnnitee, muru ja puu. Mudel sobib suurepäraselt väljapanekuks koju või kontorisse.
Big Beni komplekti kuulub Westmisteri lossi üksikasjalik osa ja sellega ühenduses olev Elizabeth Tower, neli üksikasjalikku numbrilauda liigutatavate tunni- ja minutiseieritega ning kõnnitee, puu ja muruala.
Tõsta torni katus pealt ära, et Big Beni kellale ligi pääseda.
Pane oma LEGO® ehitamisoskus proovile!
Erielementide hulgas on neli trükitud numbrilauda.
Haruldased elemendid on suusakepid, lilled ja tuhmunud kuldsed külgplaadid ning toonitud läbipaistvad elemendid.
Selles komplektis on üle 4000 LEGO® osa.
Komplekt pakub eakohast meisterdusrõõmu kõigile vanuses 16+.
Big Beni mõõdud: kõrgus 60 cm (23 tolli), laius 44 cm (17 tolli) ja sügavus 20 cm (7 tolli).
Ehitusjuhised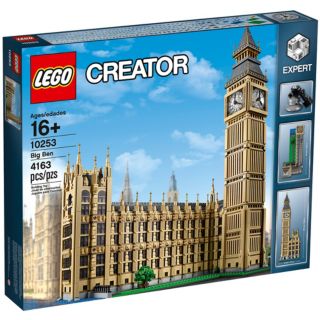 Customer Reviews
Overall Rating
Average rating4.6out of 5 stars
96% would recommend this product.
Rating
Overall Experience
Play Experience
Average rating3.7out of 5 stars
Level of Difficulty
Average rating3.8out of 5 stars
Value for Money
Average rating4.6out of 5 stars
Võtke arvesse, et arvustuse kasulikkuse hindamisel kogub ja talletab meie usaldusväärne kolmandast osapoolest teenusepakkuja teie IP-aadressi üksnes selleks, et takistada samalt IP-aadressilt mitme hinde andmist. Selleks et teada saada, kuidas isikuandmeid oma kontrolli all hoida, lugege meie privaatsuspoliitikat.
Reviews