Product Details
All aboard the LEGO® DUPLO® Push Train!
Features
Little engine drivers will love pushing this train around the track, stopping to load up the crates of fresh apples and pumpkins as they go. There's also a level crossing and a car to operate, so you can talk to your child about traffic safety while creating role-play stories together. LEGO® DUPLO® bricks are specially designed to be fun and safe for little hands. Includes 2 DUPLO figures.
Spark young imaginations with a buildable DUPLO Town train with a hinged roof, wagon, transport truck, opening level crossing, train track, and a buildable tree!
Train and track work with other LEGO DUPLO Track System sets
Includes male and female LEGO DUPLO figures
LEGO DUPLO building toys are made for small hands and are compatible with other LEGO construction sets for creative building
Train with wagon is over 3" high, 11" long, and 2" wide
45 pieces – For boys and girls between the ages of 2 and 5 years old
Building Instructions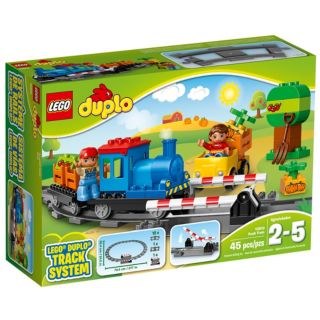 Customer Reviews
Overall Rating
rating.prefix4.3rating.postfix
100% would recommend this product.
Rating
Overall Experience
Play Experience
rating.prefix4.7rating.postfix
Level of Difficulty
rating.prefix1.7rating.postfix
Value for Money
rating.prefix4.3rating.postfix
Please note that by submitting a helpfulness vote on a review your IP address is collected and stored by our trusted third party service provider for the sole purpose of preventing multiple entries from the same IP address. To see how to control your personal data, please see our Privacy policy.
Reviews
rating.prefix5rating.postfix

I would recommend this to a friend!

My son isn't quite 2 and I knew he'd have problems with the battery operated trains after reading reviews saying that they couldn't be pushed. So I bought this instead and it's been great! You get a lot for the price and my son loves it. He's still a little too small to put the train on the tracks so he prefers pushing it around on the floor. Thankfully it rolls just fine off​ the tracks.

Play Experience

rating.prefix5rating.postfix

Level of Difficulty

rating.prefix2rating.postfix

Value for Money

rating.prefix5rating.postfix

5

5

rating.prefix3rating.postfix

Great train for a 2 year old

I would recommend this to a friend!

I went to the Lego Store to buy a DUPLO train for my 2yo son so that he would stop asking to play with my new Holiday Train. I was hoping to get the "My First Train" set, but the LEGO Store didn't have it, so we went with the "Push Train" instead. Even though it is lacking sound, my son doesn't care. He's been pushing the thing around for an entire day non-stop. The saving grace of this, and other DUPLO trains, is that if the train falls off the track, it is easy righted by a person with less than perfect fine-motor skills.

Play Experience

rating.prefix4rating.postfix

Level of Difficulty

rating.prefix1rating.postfix

Value for Money

rating.prefix4rating.postfix

Building Experience:

Advanced LEGO builder

3

5

rating.prefix5rating.postfix

A lovely simple train set

I would recommend this to a friend!

This proved to be an excellent set for my son. He is't two years old yet, and this set is both his firts larger Lego set, and his first toy train. The simplicity of the build and the lack of advanced functions of the track system are actually a plus - even a young child can play and assemble the track without a parent's help. The car actually can merge with the train and go around tracks, which is a bonus (even though it may not be the best traffic safety lesson, and this set is actually a beautiful tool to teach your children about that!). I highly recommend this set as a starting point both into the world of Lego, and into the Duplo track system.

Play Experience

rating.prefix5rating.postfix

Level of Difficulty

rating.prefix2rating.postfix

Value for Money

rating.prefix4rating.postfix

Building Experience:

Advanced LEGO builder

5

5