Minifigure Ice Lollipop Mould
LEGO®
Minifigure Ice Lollipop Mould
Price
$12.99
$6.49

Sale price
Sold out
Minifigure Ice Lollipop Mould

4.1429

5

7

.
rating.prefix4.1rating.postfix
Product Details
Have a frozen minifigure for dessert!
Item

852341
VIP Points

6

VIP Points

The VIP Points value shown is an estimate and actual points will be calculated when you check out.
Ages

NO AGE
Features
Make your own delicious frozen minifigure treats with this unique popsicle mould!
Makes 3 minifigure popsicles at a time!
Building Instructions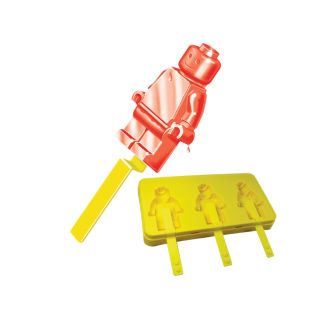 Customer Reviews
Overall Rating
rating.prefix4.1rating.postfix
86% would recommend this product.
Rating
Overall Experience
Play Experience
rating.prefix4.3rating.postfix
Level of Difficulty
rating.prefix2rating.postfix
Value for Money
rating.prefix3.9rating.postfix
Please note that by submitting a helpfulness vote on a review your IP address is collected and stored by our trusted third party service provider for the sole purpose of preventing multiple entries from the same IP address. To see how to control your personal data, please see our Privacy policy.
Reviews
rating.prefix1rating.postfix

poor execution of a cute idea

We like homemade popsicles at our house - more control over the flavors and ingredients, for one thing. With that in mind, I recently purchased the minifig popsicle maker at the Lego Store in Anaheim. Although it is a cute idea in principle, it is probably the worst designed popsicle maker that I have ever used. If it is not completely full, the sticks do not stay inserted after the liquid is frozen. But if it is fully filled, then one has to transport it completely level or the liquid drips out onto the floor and/or freezer compartment! It wouldn't work to have them be upright, because the shape would make it nearly impossible to pull a frozen item out, but surely there is some other way to do this! Maybe have a filling slot? If you buy this, prepare to be frustrated!

Play Experience

rating.prefix4rating.postfix

Value for Money

rating.prefix1rating.postfix

1

5

rating.prefix4rating.postfix

I would recommend this to a friend!

We purchased ours on a trip to Walt Disney World. I wasn't so sure about them, but we have had no issues... Some tips for other users... Make sure the Lego bumps are NOT in the mold and that the sticks are completely snapped into place. Fill to top and seal the mold. If you tip, not to worry, they seem to fill back up once level again. Our kids have totally enjoyed them and we use them as fast as they are made. Price is a bit high and I had to think twice prior to purchase, but the kids pooled their money together for half the cost, so it obviously meant a lot to them. Enjoy.

Play Experience

rating.prefix4rating.postfix

Value for Money

rating.prefix3rating.postfix

4

5

rating.prefix5rating.postfix

I would recommend this to a friend!

This lolly making set is fantastic. Strong rigid plastic makes carrying to the freezer a breeze. There is a lid so you can stack several moulds in the freezer at the same time. Each set has six lolly sticks which are plastic and re-useable. The ice lollies that it produces are great fun. Our family love them. you can also use the moulds for melted chocolate. Take away the sticks and you have a unique ice cube "Minifigure style". Even as a Jelly / Jello mould. Size of container is 227mm long by 225 deep (with sticks in place) by 40mm high approx. Each minifigure is 100mm long by 70mm wide and 20m deep approx. Great Fun and Value for whenever you need that lolly / popsicle moment.

Play Experience

rating.prefix5rating.postfix

Value for Money

rating.prefix5rating.postfix

5

5

rating.prefix5rating.postfix

I would recommend this to a friend!

this is a neat looking mould. there are a few problems though, my POPSICLE comes out all broken and lots of ice still in the mould. it is a cool looking Popsicle if it comes out good. its worth it for legos in your fridge.

Play Experience

rating.prefix4rating.postfix

Value for Money

rating.prefix4rating.postfix

5

5